Trophy Pet Foods Franchise
Sharon Leicester covers the Wirral with her Trophy Pet Foods franchise
17th November 2016
Sharon Leicester joined Trophy Pet Foods in 2014 and her business, in the Wirral, has grown & grown.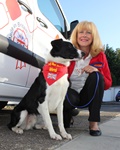 "I just love the support that is offered by Trophy Pet Foods! The team at Head Office offer daily support, show us new ideas, provide nutritional back up, product development, work shop days and a brilliant annual conference.

I felt that the Trophy franchisee conference for all franchisees was extremely useful in driving my business forward in new innovative ways. I came away feeling refreshed and motivated which gave me the drive to throw myself into the year to come and what I year I have had.

I now have a customer base of over 170 and most of my new customers come from referrals, social media and shows/events etc. The business is still growing and I am very much looking forward to 2016".
Sharon was Best New Trophy Franchisee in 2014.
If you would like to find out how to start your own Trophy Pet Foods franchise just click below to request your FREE franchise information pack

Trophy Pet Foods Franchise Case Studies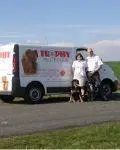 Trophy Pet Foods are pleased to introduce Dave and Maureen Hume
26th September 2016
Dave and Maureen Hume are from Barnard Castle in the North East.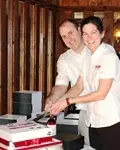 Introducing Matt and Jen from Trophy Swindon & North Wiltshire
25th September 2016
Matt and Jen joined Trophy Pet Foods in 2012 and their business has gone from strength to strength!
Introducing John & Karen Purnell from Trophy Pet Foods in Warminster, Wiltshire
22nd September 2016
John & Karen Purnell tell us about running their Trophy Pet Foods business in Wiltshire.