Commercial Planting Business
Generate £100K, £200K and even £500K running an Inleaf Commercial Planting Business.
Inleaf is one of the most exciting franchise opportunities in the UK. They are looking for ambitious and driven franchisees to join them and share in their growth and success.
Inleaf can be rewarding in so many ways. With their help and support the business is simple to understand, easy to set up and straightforward to run.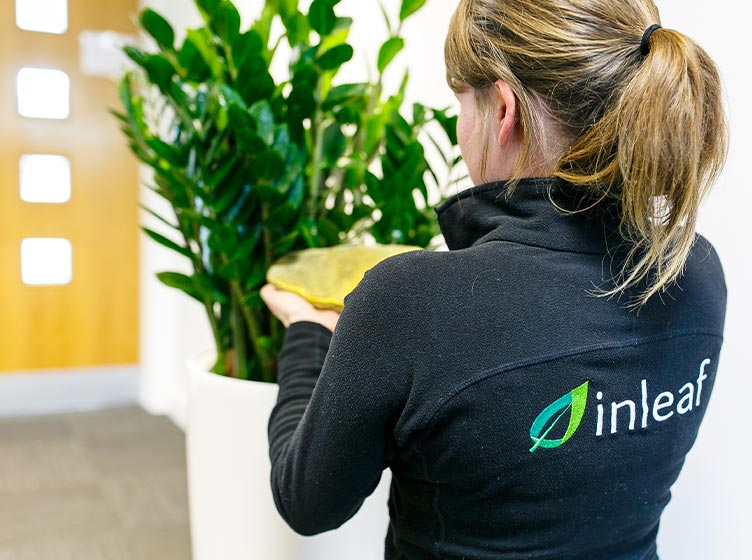 The Inleaf Franchise Opportunity:
Inleaf Franchisees help designers, architects and clients create amazing spaces as well as
Improving spaces with the benefits of plants.
Franchisees arrange installation of stunning living plants into commercial (and some high-end residential) spaces – then visit regularly to maintain the plants and make sure they continue to look great.
Clients usually include:
Offices and business' reception areas
Hotels, bars, pubs and restaurants
Shopping centres and retail spaces
Temporary events, trade-fairs and shows
Residential installations for wealthy clients
Franchisees offer a diverse range of products and services which include:
Indoor plant displays
Living walls
Expert design & technical services
Preserved moss walls and pictures
High-quality artificial plants
Corporate Christmas schemes
Install office plants…

As an Inleaf franchisee, your
team will install living plant
displays into your
clients' spaces.

…then maintain them..

Once installed, your team
will visit regularly to look after the plants, to they continue to look great.

...recurring profits

The ongoing maintenance
means you get recurring
payments, which grow
and grow as your
business builds.

Plus living walls…

You'll also provide specialist services, such as bespoke living walls

…artificial displays…

Our high-quality artificial or preserved plant displays are
a great alternative to
living plants

…festive decorations

Many clients will also use your
business for Christmas trees
and decorations –
adding a festive boost to
your profit.
No Experience Required:
You don't need any experience in horticulture, plants or even to have a particularly green thumb — although you will get a head start if you do.
Inleaf's franchise package includes intensive training on their core range of plants, so you will quickly become an expert on what works and will remain vibrant in each type of environment and position in the premises you serve. If you have experience approaching or selling to business clients, it may initially be an advantage — although their simple approach to sales is something anyone with a bit of common sense can learn.
Why Choose an Inleaf Commercial Planting Business?
Fun and lucrative business which generates year-on-year growth
Proven business which benefits from both recurring contracts

and

lucrative one-off sales
Selection of large territories available across the UK
Existing franchisees have generated multiple six figure turnover – and you can too
In 2022 the Inleaf network generated more than £1.7M in revenue
Run your business with a world-class brand, sales & marketing and software app
Could you become a Inleaf Franchisee?
You can start your Inleaf Commercial Planting Business from home, as long as you have a small amount of storage space and an area that you can dedicate to receiving deliveries and potting plants (a simple large shed or garage will do).

You can start alone and add staff or other family members as your new business grows. Ideally, if you are running Inleaf as a couple, you might sell more initially if one of you is dedicated to sales and design; leaving the other to concentrate on installation and maintenance
You may also decide to start your business in a dedicated unit (or grow it to the point that you move into dedicated premises later). Inleaf welcome those that intend to grow their businesses to the point that they concentrate on business development and management whilst an employed team to do the preparation and actual work in the field based from a dedicated unit.
The Investment:
The franchise fee to become an Inleaf Franchisee is just £22,750+VAT. You will be provided with all of the equipment (including the deposit or first three months lease on your van) and all of your initial stocks in in affordable 'turnkey' package
You will also need adequate working capital to carry you through your first few months of trading, as Rental and Maintenance contracts become profitable only after their second quarter in place (but then provide a higher return over each two-year contract than one off sales of the same size).
The interior landscaping sector is a vibrant and proven one, there is established competition ranging from one man bands to national plant rental and maintenance brands. Inleaf's offering beats these competitors because it is better on several levels!
Find out more about the Inleaf Franchise opportunity and running your own Commercial Commercial Planting Business in your local territory. Click below now!
What

Our Franchisees Say

If you were to start anything like this on your own it would take absolutely years to fine tune and understand what you need to make it successful.

I earn so much more than I used to in my [employed] senior role.

From a results perspective it's blown my mind!.. The results have been really pleasing.
Why

Choose Us

Inleaf are the only active franchise in the interior landscaping/office plants market in the UK.

Proven success with current franchisees earning six-figure annual revenue over multiple years.

Benefit from Inleaf's world-class brand, marketing, website and software
Related

Franchise Categories
Related

Franchise Types