Ecoline Wash Franchise
Car Valeting Business Opportunity
Ecoline Wash is the first Italian franchising of mobile car valeting and steam car wash. Established in 2011, after decades of experience in production and sale of steam generators, Ecoline Wash now has more than 126 units in 14 different countries.
The Ecoline Wash Franchise Opportunity: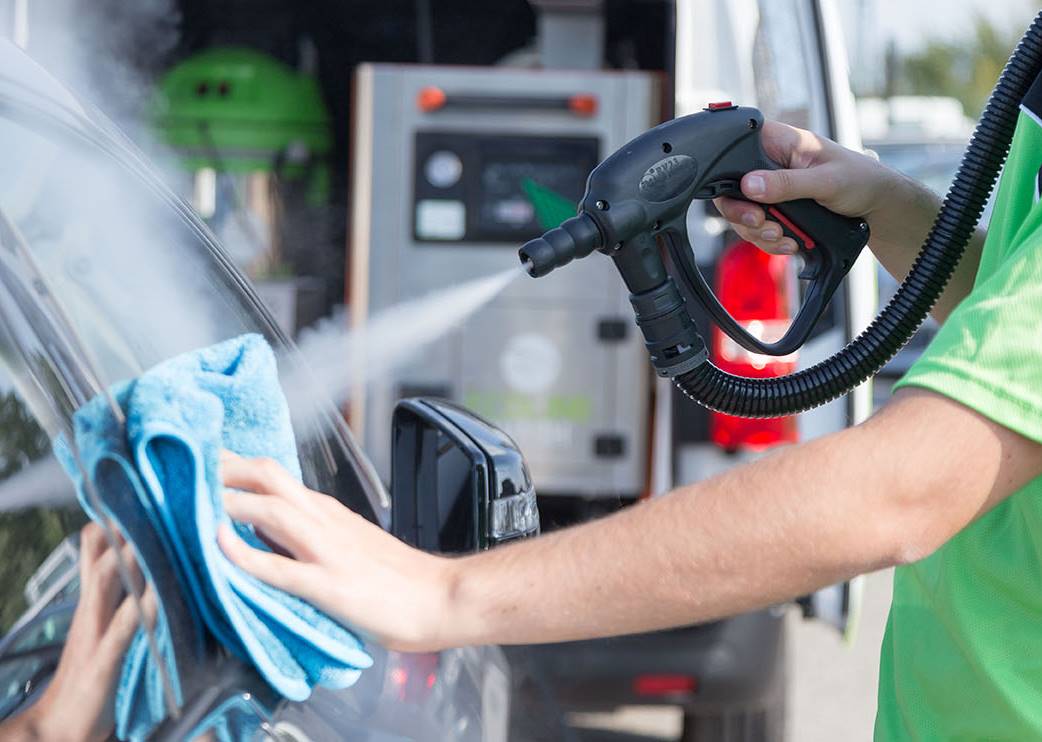 Ecoline Wash Franchisees can reach their customers with their fully equipped van and provide a mobile car valeting and deep steam cleaning service on all kinds of vehicles.
With more than 40 years of experience in the world of steam, Ecoline Wash is proud to pass their know-how to franchisees, who provide high standard services respecting the environment, using only 2 litres of water per wash and having no impact on the environment.
Ecoline Wash has a strong, recognisable and coordinated image from the van to all advertising and communication, together with an advanced system of marketing.
Where you want, when you want.

At home, at offices, at car dealerships, at car rentals, in carparks and in many more places, Ecoline Wash acts as a fully equipped car valeting centre aboard a van.
Ecoline Wash Franchisees reach customers wherever they are, without moving their car.
Franchisees provide a highly professional service, in a completly autonomous way, since it doesn't require water or electrical connections.
Much more than a car valeting service
Ecoline Wash is specialised in deep steam cleaning of interiors of all kinds of vehicles. Service is called sanitization or disinfection because water is heated to a temperature between 150°c and 185°c, generating dry steam sprayed on the surfaces.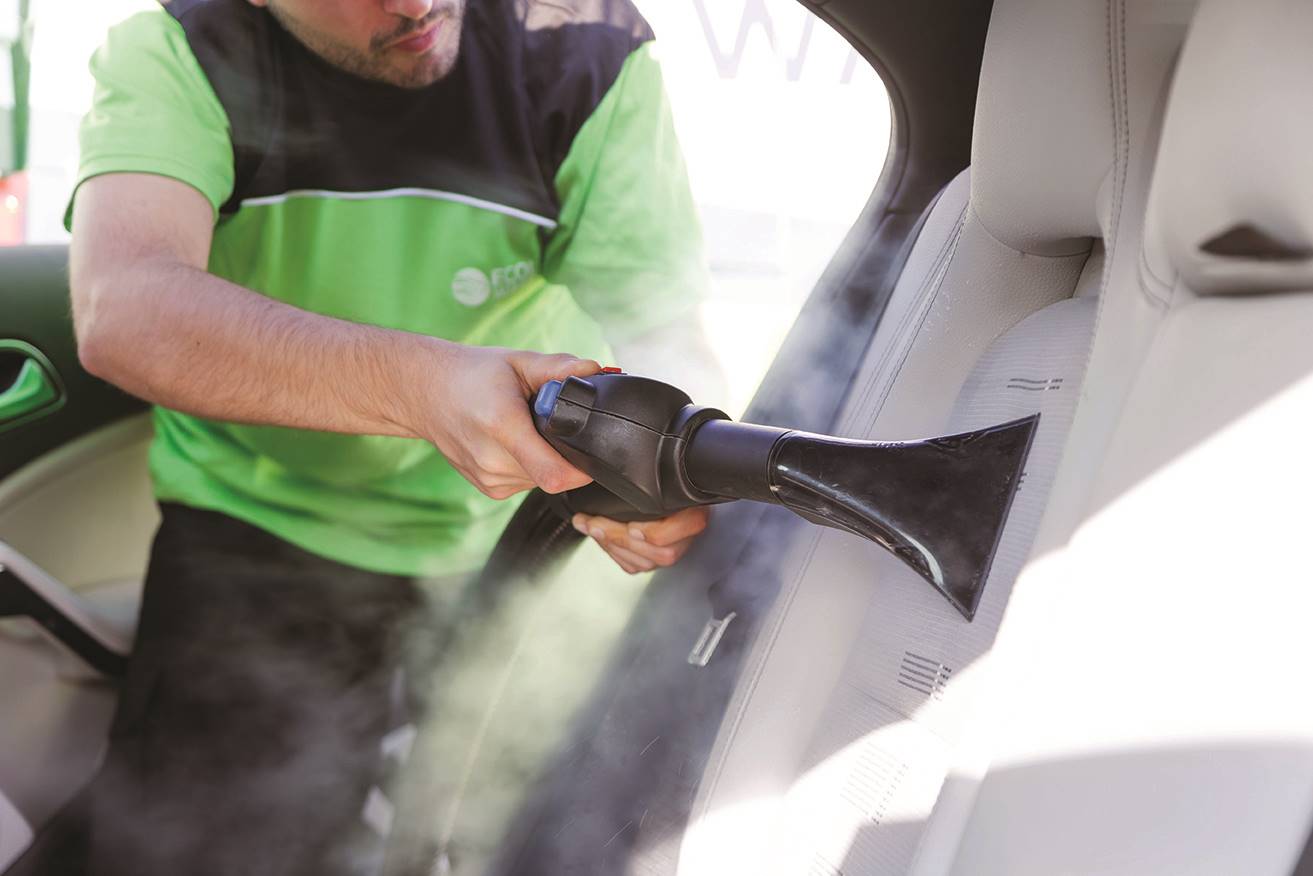 Thanks to the technology used by Ecoline Wash, the steam becomes a gas with incredible cleaning power and thanks to the combined function of steam and vacuum it is possible to reach a very deep cleaning without getting wet.
Furthermore, Ecoline Wash vans are ready to reach the customer where they want and when they want, because the service can be booked directly through the application or website.
The Franchise Package Overview:

The Ecoline Wash Franchise offers:

a handy service for those who do not have time to wash their car;
a refurbishment of interiors of each kind of vehicle, made with steam;
an ecological system because it leaves no residues and steam allows great water saving;
a smart way to book the service, through an easy app and website;
a wide range of reachable customers;
an easy-to manage business for franchisees.
Is an Ecoline Wash Car Valeting Business for you?
Ecoline Wash Franchisees need to have a van, Ecoline Wash supplies everything necessary in terms of technical and technological tools for the success of the activity.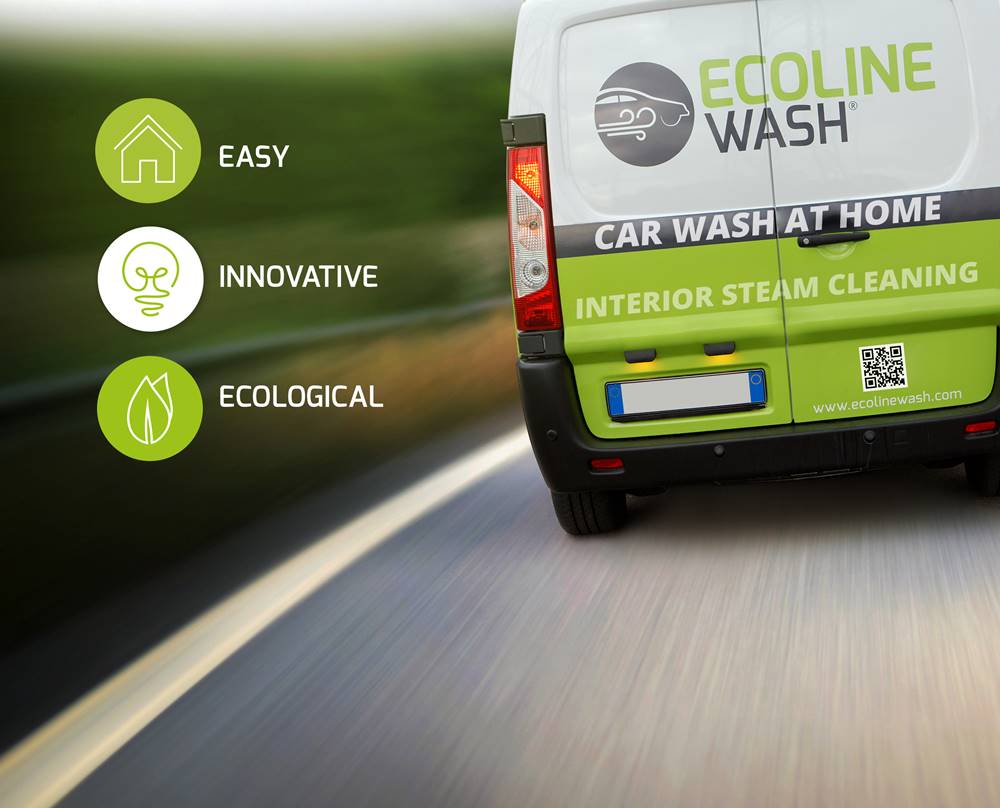 Franchisees do not require experience but certainly require personal characteristics such as positivity, problem solving skills, determination, perseverance and customer orientation.
Whether you want to join the Ecoline Wash network opening your own franchise unit, or if you are interested in a more ambitious project of development throughout the UK as a Master Franchisee, Ecoline Wash can help you turn your activity into a successful business!
Find out more about the Ecoline Wash Franchise, the successful international Car Valeting Business. Click below now!
What

Our Franchisees Say

I was looking for an activity to do on my own, and I was impressed by what was possible to do with the steam of Ecoline Wash. I really liked the innovative aspect of the activity, the company is modern and is always a step forward, just look at the App that had been developed. In my area the service works, and I'm sure it would work in all the other English cities.Gentian Zeneli, Franchisee Ecoline Wash Northampton – UK

We started about a year ago and today there are Audi and BMW among our customers. Our efforts have been rewarded. We have always looked for an activity that was eco friendly and independent and when we found Ecoline Wash we liked it right away.Barry and Amaia – Franchisee Ecoline Wash Bilbao - Spain

Since 2012 when I started the business I knew it was something very innovative, then the results arrived, the customers are very happy. I work both with professionals and individuals, and now I have 2 vans and 4 employees with me. Today I see the growth of our network, I am proud to say that I had seen it ahead.Tony - Franchisee Ecoline Wash Brindisi - Italy
Why

Choose Us

Ecoline Wash are an eco-freindly green business, thanks to steam and to their working technology

Innovative service, from the system used to the booking tools

Solid know-how and catchy image
Related

Franchise Categories
Related

Franchise Types