Burger Priest Franchise
Premium Burger Restaurant & Take Out Business
The Burger Priest Franchise is a premium Burger Restaurant & Take Out Business opening throughout the UK, with an affordable franchise package. Burger Priest only serves premium healthy 100% Aberdeen Angus burgers, never frozen, always fresh, gluten free, hormone & steroid free, no preservatives and fully traceable!
The Burger Priest Franchise Opportunity: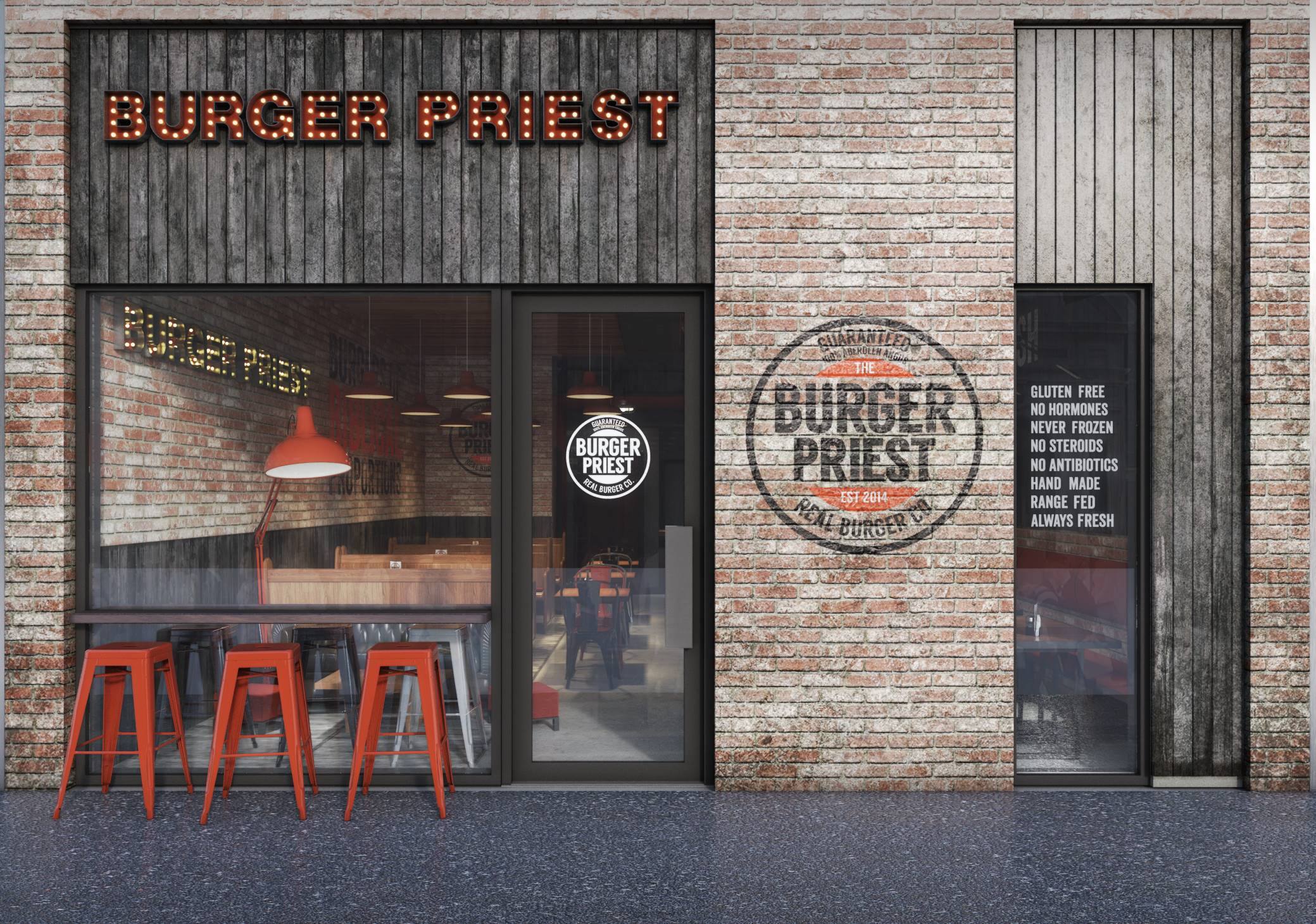 This is a high cash turnover business with pre-arranged national approved supplier network discounts that are passed direct to the franchisee, enabling franchisees to anticipate 65% gross profits or higher.
So with an anticipated gross cash turnover of £650,000 to £1.5million per annum, that gives you a good chance of making some serious money!
A stylish themed burger restaurant & take out, complete with church pews, wooden and tiled floors, fashionable lighting and open brick interior walls.

Burger Priest's goal is to simply offer the best burgers and food and drink, using only the best ingredients and produce in an ever increasing health conscious fast food market.
Burger Priest offer a fresh and clean alternative to the UK fast food market for people who don't mind paying that little bit more for a better quality option.
Support & Training:

The comprehensive training programme for the franchisee and their team covers everything from staff recruitment and chef training to business planning and management systems, and comes complete with detailed operation manuals and on-going support.
The Burger Priest Franchise Package:
The extensive franchise package includes a complete training system & support pack from Burger Preist's experienced franchise team from start to finish including helping you find the ideal premises for your Burger Restaurant & Take Out Business in your chosen territory.
Burger Priest will assist with negotiating the terms of your property lease, designing and project managing your venue refurbishment.

As a franchisee you will receive:

Site location assistance
Restaurant design & project management
Venue refurbishment management
Business plan & forecasts
Finance assistance & advice (subject to status)
Management training
Staff recruitment & training
Chef training & development programme
Initial marketing & stationery pack
Complete menu spec manuals
Franchise operation manuals
The Franchise Summary:
5 Year renewable franchise agreement
Initial franchise package fee of £25k + fit out costs
Monthly royalty service only 6%
UK national marketing fee only 2%
Anticipated gross profits 65% plus
High cash turnover business
Anticipated gross cash turnover of £650,000 to £1.5Million p.a.
Premises are available now for Burger Priest in most major towns & cities throughout the UK & parts of Europe.
Find out more about the Burger Priest Franchise, and opening your own Premium Burger Restaurant & Take Out Business. Click below now!