Artful Toddler Franchise
Children's Arts & Crafts Business
The Artful Toddler Franchise is an exciting Children's Arts & Crafts Business in both the UK as well as Internationally. The business provides children from the age of 12 months upwards with the opportunity to express themselves through Arts and Crafts in a safe and friendly environment.
About Artful Toddler: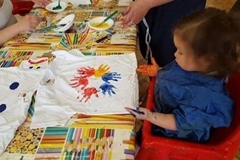 Artful Toddler was established in 2011 by founder Nina Girling. Nina struggled to find an arts and craft class that was structured and not just messy play and that was educational and helped to develop children's physical and social needs.
As a mother to 3 children she struggled to find a class which provided everything that a mother with 1, 2 or multiple children required.
Nina created Artful Toddler to create a class which meets all of the needs of parents and which is stress free and fun!
This fun and exciting Children's Arts & Crafts Business is not about messy play with paint and basic art materials. It is about showing children that we can all be makers of things rather than consumer of things.

The Artful Toddler Franchise Opportunity:
If you are looking for a fun, exciting and most importantly, rewarding business opportunity, then Artful Toddler may just be the right business for you.
Working with children and watching them grow and develop using such a fun creative medium is ridiculously exciting. As is running your own business.
Combine the two, with a proven business model and a fantastic, fun, energetic team and an Artful Toddler franchise is what you get.
Why choose the Artful Toddler Franchise?
Artful Toddler have struggled to find another 'arts and craft' group that is just like them! Many of the craft classes available do not provide what is required in structured learning. Just lot's of 'messy play'!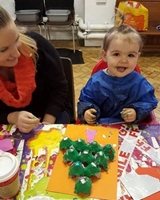 Artful Toddler is a successful Children's Arts & Crafts Business with a proven model. They want customers to stay with them for years and not just short term and they have proven this within their model. Through franchising they are extending these experiences across the country and beyond.
As a Artful Toddler Franchise owner you can have a positive impact on children's lives, as well as your own! Be flexible, you decide if you want to work full time, part time or even employ someone to run it.
You don't need to be creative as 2 years worth of full structured plans containing over 80 educational projects will be provided to you.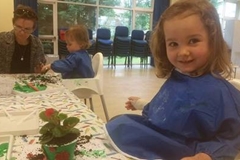 Artful Toddler will provide everything you need including full set up to get you started and it doesn't finish there. It is within their best interests to ensure you are successful and they will be with you every step of the way!
Artful Toddler are looking for dedicated and passionate individuals who want to launch their own Children's Arts & Crafts Business.

You will have the opportunity to earn in excess of £26K per year by running just 6 x 45minutes per week, this is not even including holiday clubs, nurseries and parties!
Find out more about the Artful Toddler Franchise, the exciting new Children's Arts & Crafts Business. Click below now!