Kidslingo Franchise
Kidslingo Franchise
Children's Languages Business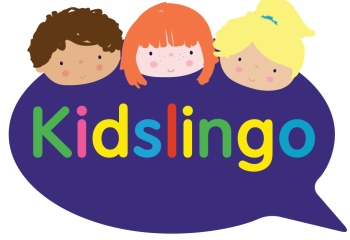 Kidslingo is a successful award-winning franchise running the Frenchtastic & Spanishtastic programmes across the UK. They inspire young language learners, from birth to age 11, with songs, games, drama and story-telling creating a truly multi-sensory language learning experience.
The Kidslingo Franchise Opportunity:
The Kidslingo Franchise works with primary schools, nurseries, child minders, home educators as well as running baby, preschool & after school classes in hired venues.
Kidslingo has recently received Gold level accreditation from the Children's Activities Association and they are the only kids' language company to achieve this.
Having achieved Gold CAA accreditation means that Kidslingo has been independently verified as having met or exceeded all the necessary elements of the CAA Code of Practice.
Joining the Kidslingo Franchise is an exciting opportunity to run your own profitable, flexible Children's Languages Business. It will provide you with the flexibility to fit your working life around family commitments or another job and scale your business as circumstances change.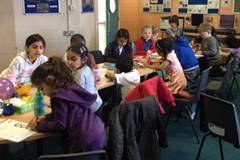 Equally if you want to work full time or build your own team, then the wide range of opportunities and potential customers offer you the scope to do this.
Kidslingo currently runs hundreds of classes, teaches thousands of children and is expanding rapidly across the UK.
Kidslingo won a Highly Commended Award at the What's On for Little Ones Award 2016, was a finalist in the Working Mums Supportive Franchisor Award & Family Friendly Franchise Award as well as a finalist in The Best Women in Business Awards.
The Life of a Kidslingo Franchise Owner:
As a Kidslingo franchisee there is no such thing as an average day, but here is an example of what you could be up to in 24 hours!
9:00am-9.30am - Nursery class with the pre-schoolers
9.30-10:00am - Nursery class with babies
10.20-11:00am - Parent & preschool class at a local church hall
Put up a few leaflets, check emails, make a few 'new business' calls to nurseries & schools
12.30-1:00pm - Lunchtime club at a local primary school
1.30-2:00pm - Nursery class with pre-schoolers
2.30-3.15pm - Baby class in a local children's centre
3.30-4:00pm- After school club at a local primary school
Checking email & social media activity in the evening
The Kidslingo Franchise Package:
Lesson plans for baby, preschool, infant & junior age range
100+ music tracks
Flashcards, worksheets & digital resources
Branded kit bag full of toys, instruments & props
Loyalty cards & certificates
Personalised marketing materials including flyers and sales booklets for schools & nurseries
Own webpage, business email, Facebook & Twitter page
Access to the Kidslingo exclusive support & ideas online forum
Comprehensive training and annual training & development session
Ongoing advice & support from Head Office including webinars
National Listing on http://www.whatson4littleones.co.uk
National marketing & PR initiatives
Is the Kidslingo Children's Languages Business For You?
If you can answer yes to the following questions then Kidslingo is the franchise for you!

Are you a confident French and/or Spanish speaker?
(there is no need to be totally fluent)
Do you love working with young children?
Do you want a career that's fun, flexible and rewarding as well as being family-friendly?

The Investment:

The Kidslingo Franchise term is 3 years with the option to renew at the end of the term.
Kidslingo offers single and dual language packages:
3 ALTERNATIVE PAYMENT OPTIONS
Year 1

Year 2

Year 3
Single language
£2000
OR
£1000+ 15% of
gross revenue*

15% of gross revenue
with
minimum £1000
payment

15% of gross revenue with
minimum £1000
payment
Dual language
£3000
OR
£1500 + 15% of
gross revenue*
15% of gross revenue
with
minimum
£1500 payment
15% of gross revenue with
minimum £1500
payment
*Gross revenue before any deductions.
Find out more about the Kidslingo Franchise, the award-winning Children's Languages Business. Click the button below now!