Ambience Venue Styling
News
Features
Events
Resales
Ambience Venue Styling Franchise
Wedding Decorating Business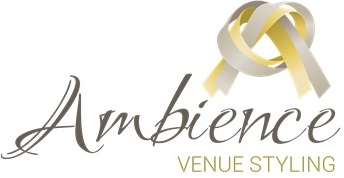 Restyle Your Career with a Wedding Franchise!
The Ambience Venue Styling Franchise is a professional Wedding Decorating Business.
Established in 2006 Ambience Venue Styling offers high quality wedding styling services ranging from the supply of chair covers and sashes right through to table and venue decorations.
Ambience is the UK's largest wedding styling network.
The Ambience Venue Styling Franchise Opportunity: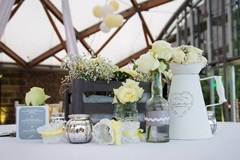 Ambience Venue Styling offers the opportunity for enthusiastic and creative people to start their own low risk Wedding Decorating Business.
There are currently 30 franchisees operating across the United Kingdom. Due to high levels of business Ambience Venue Styling are looking to recruit franchisees to join their wedding styling network.
Ambience Venue Styling Franchisees benefit from operating their own niche business in a growing market place so although there are some competitors the business is busier than ever!
The business model offers very high expansion potential either by continuing to directly operate the business yourself or through managing staff.
Ambience is a fun business, which is home based and flexible. If you are good with people, enjoy fabrics and fashion and want to develop your creative side then this is the opportunity you are looking for!
What is Wedding Venue Styling?

Wedding venue styling is a market which offers a fantastic opportunity to develop a highly successful business in a growing market place.

Ambience Venue Styling are the interior designers of the wedding industry providing couples with a high quality personal wedding styling service at an affordable cost.

Ambience style wedding venues for their couples and venues using co-ordinated table linen, napkins, chair covers, sashes, table decorations, centrepieces and accessories to help deliver the couple's vision for their special day.
The benefits of an Ambience Venue Styling Franchise:
Positive Industry: Weddings are happy events and Ambience Venue Styling Franchisees genuinely feel that they are contributing something of value to brides.
Exclusive Territory: Franchisees operate on an exclusive territory basis to allow them to build their Wedding Decorating Business in their local area without competition from other Ambience franchisees.
Control of Your Own Destiny: You will be in business for yourself but using a proven business model that 30 people are already operating successfully.
Training and Support: On purchasing this franchise you will receive an initial 2 day training course at Ambience's head office plus on-going training and support which is invaluable for a small business owner. With their support you will learn how to become a professional venue stylist and a successful small business owner.
Financially Rewarding: The highly efficient business model ensures that you can operate a financially rewarding business.
Training and Support: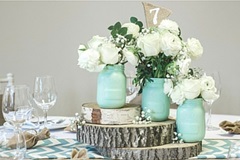 Franchisees are supported by a dedicated team of people at the Ambience head office in West Yorkshire.
The management team has a strong business background and provides support and mentoring as well as practical guidance on how to replicate their success in your region.
The Support Programme covers wedding venue styling trends, marketing and sales, customer service, business planning, financial management and IT and operations. Regional meetings and an annual conference are held for franchisees to get together to learn, share knowledge and socialise.
Ambience franchisees have access to the subsidised stock hire bank of over 8,000 styling items ranging from chair covers and sashes through to aisle runners, starlight backdrops, topiary trees and table centrepieces.
Franchisees can also use the Ambience network forum to hire stock to one another as a way of expanding their product range and increasing their revenue.
Is the Ambience Venue Styling Franchise for you?
Ambience are looking for hard-working, creative minded and enthusiastic individuals to help expand and develop their wedding venue styling business. If you think you would be suited to this franchise opportunity, then they want to hear from you.

Find out more about the Ambience Venue Styling Franchise, the UK's professional Wedding Decorating Business. Click the button below now!