Imagine having your own business, in a thriving sector, where you get to choose who you work with, keep your own hours
and work from home
Having spent over 10 years giving talented, ambitious people across the country the opportunity to own and manage a successful theatre school business whilst following a tried and tested system. Razzamataz are proud to bring you the newest and most exciting children's activity sector franchise in town - the Razzamataz Early Years Franchise!
The Razzamataz Early Years Franchise Opportunity:

As a Razz Early Years Principal, your business will be part of a much larger network that has a proven franchise system, amazing support team and some powerful local and national marketing behind it.
Razz Early Years is made up of 3 different classes for 3 different age groups:
Tiny Tots: babies - walking

Tiny Tots has been developed to inspire little ones from 6 months to walking to see the world through imagination, senses, play & performing arts.
The Tiny Tots class structure features a mix of "Time to bond" and "Time to share", allowing for more one to one time between parent and child, with the teachers delivery focussing on guiding the parents in working directly with their children.
A great first step on the ladder before children start independently following teachers instructions for themselves with their parents help during Tots, before then completely becoming independent of their parents in the room on their own during Razz Minis!

Tots: walking - 3 years
Children develop quickly in the early years and a child's experiences between birth and age five have a major impact on their future life chances.
Good parenting and high quality early learning together provide the foundation children need to make the most of their abilities and talents as they grow up. That's why Razzamataz has designed Razz Tots for children walking up to 3 years, an exciting journey through the jungle, to space, under the sea and much more!
Razzamataz hope to aid parents to ensure that their children can develop and achieve their full potential in a safe and enabling environment.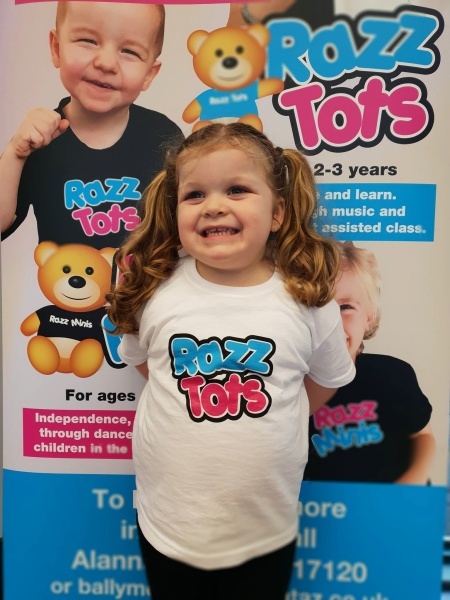 Razz Tots classes are their parent assisted melody and movement classes for their preschool students, classes last one hour and include a social time at the end for both Tot and Grown-Up!
The Razz Tots classes involve imaginative play, melodies, movement and crafts all of which help their classes meet the Governments National Early Years Guidance.
Mini's: 4-6 years
Razz Minis offers a fun yet informative introduction to the world of performing arts for 4 and 6 year olds. At this age, children enjoy music and movement in such a natural way it's a great time for them to begin to explore the world of song, dance and drama.
Each Razz Minis class and consists of singing, drama and dance. With no pressure to perform, parents are invited in to celebrate the progress their child has made in our Razz Minis programme – just lots of encouragement, smiles and fun!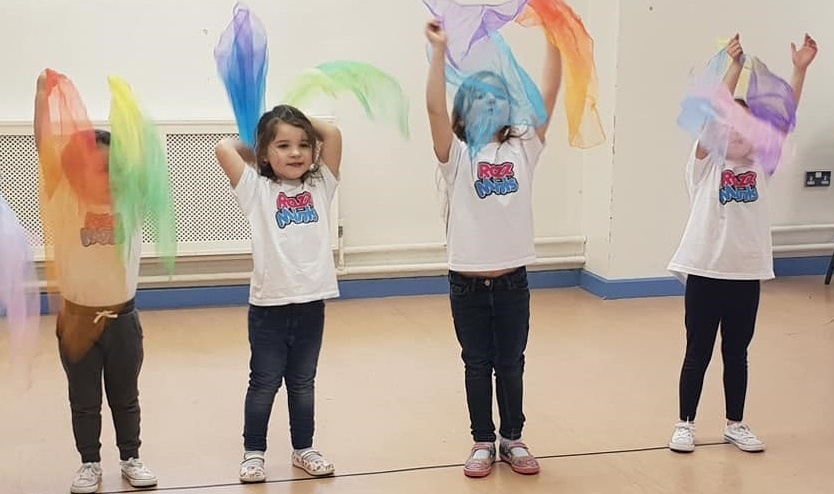 All can be run in a village hall or small leisure centre sports room. You can run this business 100% by yourself or choose to employ someone to teach the classes for you while you concentrate on promotion and admin tasks.
Not only was the Razzamataz brand famously backed by Duncan Bannatyne on Dragons' Den, but it enjoys an array of multiple door opening strategic partnerships including Euro Camp, Universal Pictures, The Stage Newspaper and Top Talent Agency.

Could you become a Razzamataz Early Years Franchisee?
It will come as no surprise that you must love working with kids and have the personality to get on well with their parents and carers, as they will all be joining in, or at least attending the classes. This opportunity has huge appeal for dancers and performers, but it's not strictly necessary provided you have the energy and commitment.
As a Razz Early Years franchisee you will receive the full training package including a number of consultant led seminars featuring: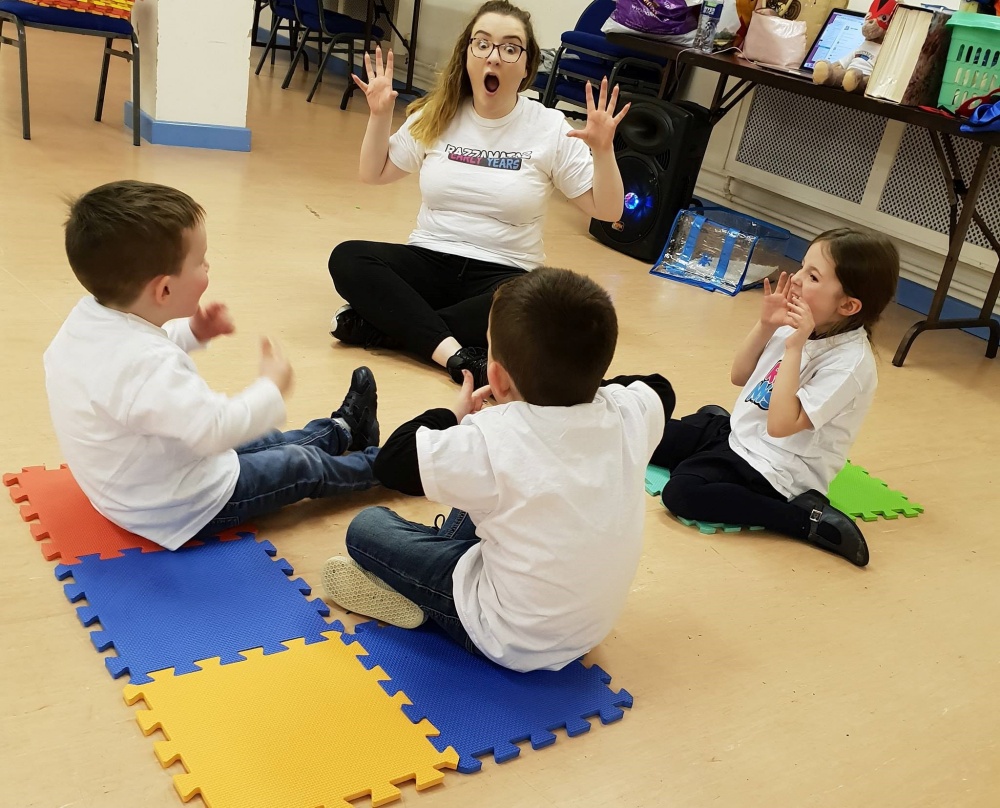 Management Skills
Daily running of the business, customer service, use of teachers, organising school performances and further opportunities are covered in detail
Child protection issues including DBS/PVG
Accounts and Bookkeeping
PR, Advertising and Marketing
Health and Safety
Operations manual and access to the resources website
...and once you're up and running you'll have all the ongoing support you'd expect from an award-winning market leader like Razzamataz!
The Investment:
Razzamataz Early Years Franchise Fee: £5,000 plus VAT. Franchisees should have £2,500 for their launch marketing budget and some additional working capital to cover their venue and travel costs in the early stages of trading.
Funding of up to 50% of your total initial investment may be available as a loan from one of the main franchising banks – just ask us for details!
Next Steps
Razzamataz run Discovery Dens all over the country from London to Glasgow giving potential future franchise owners like you the chance to meet the team, understand more about the business model, speak to existing franchisees, see a class in action and of course ask all the many questions you will have.
Find out more about the Razzamataz Early Years Franchise Opportunity and running your own Theatre School Business. Click below now!