Life/Work Balance, flexible hours, work for yourself with Raring2go!

An incredibly accessible business costing from £6,995 + VAT
to £15,995 + VAT
The Raring2go! Franchise provides you with a rewarding and flexible home based magazine and website business providing a regular monthly income (as long as the franchisee puts in the effort and time).
Raring2go! also provides you with the option of being very much available for your family commitments. Generous holidays including all 13 weeks of schools holidays per year. No child care costs. No stress or expensive commute. Membership of a network of brilliantly engaged franchisees who work with one another locally, regionally and nationally.
The Raring2go! Franchise opportunity:
Raring2go! is a seasonal, quarterly magazine so there are four editions per annum. Each edition is a minimum of 32 pages x 10,000 copies. Clearly, as each Raring2go! business matures, the page count and production quantities increase. This in turn brings slightly higher print costs but also increased profitability through advertising revenue.
As a Raring2go! Franchisee you benefit because each format is income generating. Most of your customers will be keen to promote themselves online and in print. They will buy packages of promotion and support guided by you as to the best combination and frequency.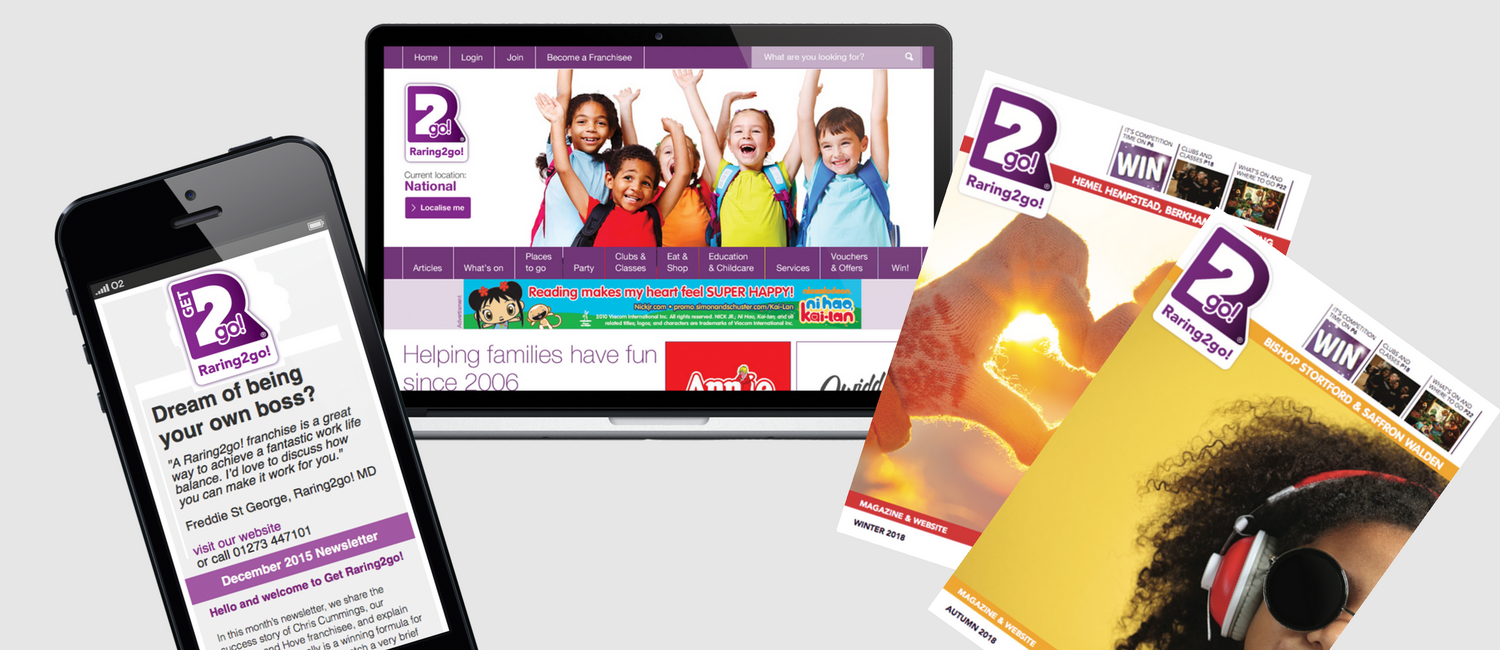 You will be fully trained and supported by their franchisee network. Each one of their franchisees is an accomplished editor with a keen sense of what works well and a track record, using their successful sales and marketing blueprint on how to approach local businesses with a package of appealing offers. They just love to help new franchisees.
Raring2go! is not part time but it is very flexible. Most franchisees are parents of school age children who want to maintain the flexibility of caring for their family whilst working on their business and earning an income.
Greater time input is required at the beginning of the journey with Raring2go! naturally, but in time, most of their franchisees are able to take nearly all of the school holiday time (13 weeks) off in order to have no childcare costs and spend time with their families.
Why choose Raring2go!


The powerful premise of Raring2go! is to connect local family friendly businesses and events with local families. Initially their franchisees accomplished this with their now iconic quarterly produced print magazine.
This is looked upon as the go-to-guide for parents and children across the UK. However, over the years their offering has expanded significantly and now encompasses website promotion, email marketing campaigns and social media shout outs for local businesses.
A typical day for a franchisee
A typical day will include telephone work speaking with current clients and nurturing new ones, face to face meetings and email correspondence with advertising clients for both print editions and their own area specific websites.
Compiling lists of local events and activities relevant and interesting to the target market of primary school children and their families.
Producing editorial/feature content. A great deal of material is available free of charge to franchisees on the Rarin2go! franchisee portal.
An average franchisee works circa 24 to 30 hours per week.
Do you need qualifications?

Raring2go! provide full training, but ideally all franchisees will need either experience of or a natural disposition for sales. This means being fearless in picking up the phone or starting a conversation with people they don't know .. yet!
One important element of the Raring2go! start up package includes one on one sales training, delivered remotely by a carefully selected and independent sales training company.
Franchisees will need to be able to build strong working relationships with businesses and have the confidence to sell advertising space via phone, face to face, email and letters.
Franchisees will need an eye for detail and also not be afraid to roll up their sleeves when production time approaches as this can be a pinch point but it happens but four times a year.
Training
Raring2go! provide full training in all aspects of their IT systems which include their bespoke Magazine Management System, Franchisee Management System, and website content management system for their website. They also train them in running the awards and using social media effectively for business. Focused sales training is delivered by a trusted third party provider.
The Investment:
Raring2go! provide highly accessible start up options with investment ranging from £6,995 + VAT to £15,995 + VAT designed to give new franchisees the best possible start in their Raring2go! Franchise.
Package options:
Silver Package - £6,995 + VAT This includes the first printed edition of your magazine and the first 3 months of licence fees.
Gold Package - £9,995 + VAT This includes the first two printed editions of your magazine and the first 6 months of licence fees.
Platinum Package - £15,995 + VAT This includes the first four printed editions of your magazine and the first 12 months of licence fees.
All three packages include the following as standard:
Exclusive Raring2go! territory
BFA approved franchise agreement
Operating Manual
1, 2 or 4 magazines printed – depending which start up package is chosen
3, 6 or 12 licence fees covered depending which start up package is chosen
Branded stationery, business cards and merchandise
Comprehensive training on all systems and business operations
Bespoke Magazine Management System
Client Relationship Management System (CRM)
Ongoing training including social media training
Your own local Raring2go! website
Sales development training
Template letters and emails created by a world class writer
Practical on-going business support to keep you motivated and on track
Collaborative support from our amazing network of franchisees
Business development support via their experienced field-based team
Local area meetings and refresher training
Annual conference
Funding
Depending on your circumstances you may choose to finance the entire purchase from personal funds. Alternatively, as an established and proven franchise, funding for new franchisees is available from various high street banks. Typically, they offer around 75% loan to value, subject to terms and conditions. We will happily make the connection if you are interested in securing bank funding.
Find out more about the Raring2go! Franchise opportunity and running your own magazine and website business.
Click below now!

What

Our Franchisees Say

I'm proud to be part of the Raring2go! national family and love what I do. Every day brings something new and we not only help local families have fun and make the most of the local area but we help local businesses reach those families, helping our local areas thrive. What's not to love about that? #Raring2go!Victoria Withy Editor Raring2go! - Aberdeen City & Shire

I have achieved so much in my confidence, building friendships, getting out into networking groups. If you're thinking of working for yourself, to have a great job opportunity that is flexible around your family and lets you still do everything you need to do for your family then Raring2go! is for you.Kiri St George Editor Raring2go! - Worthing

I have never felt the value of being in a team more than in these last few months. Although I am my own boss, the support of our franchisor during lockdown, has been second to none. That support has seen regular and honest communication; training; practical advice; forward planning; and pulling together all editors to share ideas on how best to support customers and motivate each other.Sally Walters, Editor Raring2go! – Kidderminster & Stourbridge
Why

Choose Us

Part of an established, trusted and respected national brand

A supportive franchisor who works in partnership with the franchise network

No childcare costs, no stressful commute, up to 13 weeks holiday per year
Related

Franchise Categories
Related

Franchise Types