Maid2Clean is a management franchise that offers a proven recruitment business model in the domestic cleaning market
Maid2Clean is a member of the Alternative Franchise Association and the
Approved Franchise Associations.
Maid2Clean Franchisees enjoy an automated residual income and exclusive territory.
Maid2Clean's recruitment style business model and the success of their franchisees, have led to it becoming the largest franchise player in the Domestic Cleaning sector in terms of UK franchisees!

Maid2Clean is perfectly positioned to revolutionise the domestic cleaning industry they serve. The comprehensive training provided equips franchisees with all the appropriate knowledge, and management skills, to exploit the market potential to its fullest. If you have the right attitude and the tenacity to run your own business then Maid2Clean is for you.
Why are Maid2Clean different to other 'Cleaning' franchises?
Maid2Clean Franchisees work smarter not harder than the competition, you are getting a management business not a job or a cleaning business to run.
The initial franchise investment of just under £10k, with low interest financial assistance available, gives you a rapid return on investment in a growing market sector.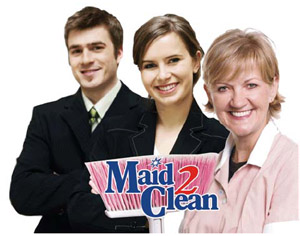 This Domestic Cleaning Business is a high margin business with automated residual income and has a 90% repeat business rate.
The Maid2Clean Franchise can be run from home and has a minimal risk factor...PLUS... there are no staff, no uniform and no cleaning material costs!
There is also no need to transport cleaners or equipment from one job to another and no cash flow problems – clients pay in advance of their clean! There's no van to purchase or hire and no invoicing or cash collections.
There's also no need to ever meet a client and no dependency on highly skilled staff.
Unrivalled Training & Support
Maid2Clean will take you through the Operations Manual and ensure you fully understand how the business works, then provide:
Full System Training at Head Office
Business Plan Development and Growth Targets for the year
Client & Worker Acquisition, Management and Interviewing Techniques
Refresher Training
Regular Meetings with the Franchisor at Your Convenience
The Maid2Clean Domestic Cleaning Business is a minimal risk set up - launch assistance is provided allowing you to run the business successfully from the start. Comprehensive ongoing help and support is available every day, including evenings and weekends.
The Franchise Package
The total cost of a Maid2Clean Franchise is £9,999 + VAT and the Franchise Agreement includes:
• Exclusive territory of c100k households
• Pre & Post Launch Advertising Campaigns
• First year's insurance
• Cleaner training information
• Initial stationery provided, with access to online portal for ongoing orders
• Superior Online Client Communication interfaces and online diary system
• Dedicated Microsite
• 24 hour access to the Franchisee Forum & Knowledge Base
• Bespoke Client & Cleaner Database
• Industry leading software systems exclusive to Maid2Clean
• Secure online document repository
• Use of 'Nationwide-Cleaners' - an online cleaner recruitment portal
The Ideal Maid2Clean Franchisee?
Maid2Clean Franchise owners are:
• Ambitious & Self-Motivated
• Confident & Tenacious
• Hard working
Maid2Clean have limited territory availability
You do not need to live in the area that you trade. One in three of Maid2Clean Franchisees operate a territory that they do not reside in. Are you interested in trading one or more of the areas below?
Bath BA7, BA8, BA9, BA10, BA20,BA21, BA22
Birmingham B1, B2, B3 B4, B5, B6, B7, B8, B9, B12, B15, B16, B17, B18, B19, B20, B21, B67, B68, B69, B70, B71
Brighton BN3, BN11, BN12, BN13, BN14, BN15, BN16, BN41, BN42, BN43
Blackpool FY1, FY2, FY3, FY4, FY5, FY6, FY7, FY8
Canterbury CT4
Cardiff CF15, CF31, CF32, CF33, CF35, CF36, CF37, CF38, CF39, CF40, CF42, CF43, CF44, CF45, CF46, CF47, CF48, CF61, CF62, CF63, CF64, CF71, CF72, CF83
Chester CH6, CH7, CH8
Darlington DL1, DL2, DL3, DL4, DL5, DL6, DL7, DL8, DL9, DL10, DL11, DL12, DL17
Doncaster D15, D16, D17, D18, D19, D20, D31, D32, D33, D34, D35, D37, D38, D39, D40, D41
Dover CT4, CT15, CT16, CT17
Durham DH4, DH5, DH6
Exeter EX6, EX7, EX20, EX21, EX22, EX23, EX313, EX32, EX33, EX34, EX38, EX39
Flyde FY1, FY2, FY3, FY4, FY5, FY6, FY7, FY8
Harrogate HG1, HG2, HG3, HG4, HG5
Hull H1, H2, H3, H4, H5, H6, H7, H8, H10, H13, H14, H15, H16, H17, H18, H19, H20
Leeds LS1, LS2, LS4, LS5, LS6, LS7, LS8, LS9, LS10, LS11, LS13, LS14, LS16, LS17, LS18, LS19, LS21, LS22, LS23, LS25, LS26, LS27, LS28
Llandudno LL12, LL13, LL14, LL19
London, E7
Maidstone ME8, ME9, ME10, ME11, ME12, ME13
Newcastle Upon Tyne NE5, NE10, NE15, NE17, NE18, NE19, NE20, NE21, NE31, NE32, NE33, NE34, NE35, NE36, NE37, NE38, NE39, NE40, NE41, NE42, NE43, NE61, NE62, NE63, NE64, NE65, NE66, NE67, NE68, NE69, NE70, NE71
Newport NP22, NP23
Plymouth PL1, PL2, PL3, PL4, PL5, PL6, PL7, PL8, PL9, PL10, PL11, PL12, PL13, PL14, PL15, PL16, PL17, PL18, PL19, PL20, PL21, PL22, PL23, PL27, PL28, PL29, PL30, PL31, PL32, PL33, PL34, PL35
Portsmouth PO1, PO30, PO31, PO32, PO33, PO34, PO35, PO36, PO37, PO38, PO39, PO40, PO41
Sheffield S6, S7, S8, S10, S11, S13, S14, S17, S18, S20, S21, S26, S32, S35, S36, S75
Sunderland SR1, SR2, SR3, SR4, SR5, SR6, SR7, SR8
Swansea SA1, SA2, SA3, SA4, SA5, SA6, SA7, SA8, SA9, SA10, SA11, SA12, SA13, SA14, SA15, SA16,SA17, SA18, SA31, SA32, SA33, SA34, SA35, SA36, SA41, SA42, SA43, 61, SA62, SA63, SA64, SA65, SA66, SA67, SA68, SA69, SA70, SA71, SA72, SA73
Teeside TS1, TS2, TS3, TS4, TS5, TS15, TS16, TS17, TS18, TS19, TS20, TS21, TS22, TS23, TS24, TS25, TS26, TS27, TS28, TS29
Torquay TQ1, TQ2, TQ3, TQ4, TQ5, TQ6, TQ7, TQ8, TQ9, TQ10, TQ11, TQ12, TQ13, TQ14
York YO11, YO14, YO16, YO17, YO25, YO41, YO42, YO43, YO60
Click below if you are would like to operate a Maid2Clean Business in one of the postcode territories above!
Find out more about the Maid2Clean Franchise opportunity and managing your own Domestic Cleaning Business