Special Dreams and Memories Made for Razzamataz Students at Disneyland® Paris
1st December 2017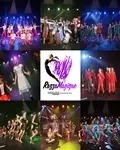 A group of approximately 250 young people travelled to one of the most enchanting places on earth thanks to a theatre school franchise who arranged a special performance opportunity for them at Disneyland® Paris. This was in the year the iconic venue celebrates its 25th Anniversary, making it even more special.
The lucky youngsters all attend Razzamataz, at one of the part-time theatre schools throughout the UK. The children, from the ages of 8 to 18 performed at The Dome Disney Village®, where Cirque Du Soleil once performed their iconic shows on Saturday 25th November.
Eighteen of the theatre schools within the Razzamataz network had the chance to invite their students and families to take part in the special gala performance called RazzaMagique, including performing the school's own song in the iconic Disney Performing Arts® Pre-Parade down Main Street USA® in the Disneyland® Park.
Andrew Govier, parent of Razzamataz Medway student Ruby, says:
"It has been a magical and wonderful experience which has exceeded all of our expectations by a mile. We were truly transported into a fantasy world of mystery and wonder watching our daughter perform in the pre-parade. The seamless process of the Take Us To The Magic organisation has added to our wonderful holiday experience. This has been a dream come true for our daughter, when she finished the parade she said, wow, that was like a dream."
Each school got an opportunity to showcase their talented students and creative performing arts teachers. Although the curriculum at Razzamataz covers everything from musical theatre through to the commercial genres, for this special gala performance the pieces were of course all Disney inspired.
Debbi Ledwith, Principal of Razzamataz Newbury, says:
"Thank you so much to Head Office and everyone that made this amazing event possible. Our students and their families are all buzzing and I am so proud of them all."
Claire Blower from Mansfield adds:
"Being part of such a fabulous show was just amazing and as for the parade, well I was a wreck! I couldn't contain myself, it was just magical. I'm so proud to be part of such a fabulous network and be able to offer these amazing opportunities to my students."
To conclude the magical show, the finale saw every student perform a new re-mixed version of the Razzamataz theme I Believe, created especially for RazzaMagique. This was a wonderful celebration of the fantastic achievement they, along with their wonderful teachers and Principals have worked so hard towards for such a long time.
The chance to perform at Disneyland® Paris is just one of the many amazing experiences that Razzamataz offer its students. As well as lots of local events, new for 2018, students will be performing at the Indigo Centre at London's O2.
Denise Hutton-Gosney, MD and Founder of Razzamataz, says:
"I am overwhelmingly proud of each and every student, Principal and staff member who put on an incredible show at Disneyland® Paris. I had goosebumps watching our students leading the Pre-Parade and performing the song from our very own charity. The whole experience has been wonderful and we are so grateful to have been given this opportunity."
Razzamataz offers a wide range of performing arts styles for youngsters age 4-18 including current trends that are accessible to children and teenagers. Classes consist of dance, drama and singing and the curriculum covers the whole of the performing arts, from classic West End musical theatre to street dance, pop singing and acting for camera.
For new franchisees, Razzamataz has a special offer of just £7,995 (£2,000 saving) to launch a Razzamataz theatre school.

To find out more about becoming part of the Razzamataz network of Principals just click below
What

Our Franchisees Say

I specifically wanted to go for a franchise, and in particular Razzamataz because of the support from Head Office and other Principals. This is a network of theatre school owners so you are in business for yourself but not by yourself.Alison Beveridge, Razzamataz Durham.

I don't have a business background so after deciding to retire from professionally performing it was the memories of Razzamataz on Dragons' Den that set the wheels in motion. I was really inspired by the brand and the business model and because it is a franchise business we receive a lot of help and support from Head Office as well as on-going training so I can make Razzamataz Barnet the success that I believe it can be. In the last 12 months, I have doubled my student numbers in a very competitive market and I have now clear plans on how I would like my business to progress this year.Michael French, Razzamataz Barnet

The support and training we get means that we can get help on any aspect of our business. It has also been a fantastic and rewarding way of working, allowing me to continue to be there for the family while running my own business.Lisa Roberts, Razzamataz Rickmansworth
Why

Choose Us

TWO franchises for the price of ONE!

One of Dragons Den most successful investments!

Affordable part time performing arts lessons
Related

Franchise Categories
Related

Franchise Types