Another Success At The Scamps & Champs Conference
6th November 2017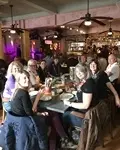 Being mad about pets has its perks. As a franchise business, Scamps & Champs has a presence across the UK, meaning they can look after many more dogs and cats than they would in a tight cluster of locations. To reward their franchisees for their trust, commitment and excellent ball-throwing, Scamps and Champs founder Lesley gathered them up this month to say thanks for their hard work.
You might say they let themselves off the leash a bit – the annual Scamps & Champs conference was incredibly fun, whilst letting franchisees rub ideas together for the future of the brand. Care to spend a moment as we tell you what went down?
Creating a stir (and a shake)
In the run-up, Lesley presented her team with a choice: "Would you prefer an intensive two-day training course, or a social atmosphere, with music and treats?" It isn't a shock to report that they went for the latter – this time, against the fabulous backdrop of Revolución de Cuba in Manchester.
Revs de Cuba, as it's known, lives up to the namesake, sporting a huge array of rums, wine and fizzy island beats under mood lighting. Together, it builds a sense that you've stepped somewhere far away from cold, rain-flecked Britain. When everyone arrived – a group of ten including Lesley, her partner and helper John, six Scamp & Champ business owners, and her uncle and auntie on photo duty – they landed straight into a cocktails masterclass, courtesy of Revs' staff.
For an hour or so, the team caught up over Mojito mixers. They poured, stirred and marvelled at their drinks, breaking up the lesson with their own takeaways from the pet-sitting sector. Then they headed to the dancefloor for a bout of Salsa, guided again by the fantastic bar staff.
Chewing over aims for the year and beyond…
After a good boogie, everyone sat down to a wonderful tapas meal, as they tucked into the rewards of a great year. Saturday ended at Greek venue Bouzouki, where the team broke out some 'interesting' performances of the Grecian dance tracks; everyone went back to their hotel rooms with tired grins on their faces.
The next day, everyone got to relax over afternoon tea at the Hilton. This was much more chilled, and gave a chance to evaluate what they had achieved in each of the territories, and how Scamps & Champs as a whole could be strengthened.
One pertinent idea was to share more information, branch-to-branch, as franchisees for dog walking and pet sitting in Beverley, Derby and Fareham felt they didn't get to touch base enough through the year as they are a bit further afield. While caring for pets is the dearest priority, it seems sensible to ensure that business leaders meet and discuss their services every few months, so a cat or canine gets the very best treatment imaginable.
Overall, everyone had a memorable weekend, re-energising the Scamps & Champs goal to deliver the finest pet sitting, boarding and dog walking services in the UK.
Want to hear more about the Scamps & Champs franchise? Just click below
What

Our Franchisees Say

In just six months, the business has certainly started to grow well with 49 clients and 865 jobs to date!Jeanette Harding

Having the support of Lesley, and Scamps & Champs, has been amazing. We've grown our business from nothing and can really look forward to a brighter, flexible future doing a job we love! It doesn't even feel like a job!Kayleigh Gaskill

I really enjoy myself now, every day! What's not to love about walking dogs and visiting all the lovely pets I now care for and their owners who I now count as friends! I only wish I'd had the opportunity to do this years ago!Jeanette Harding