In Celebration of World Teachers Day
9th October 2017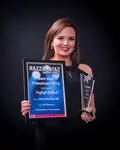 Kayleigh Redford, Principal of Razzamataz Newcastle
Since 1994, there has been a special day every year on October 5th that celebrates teachers' organisations worldwide. The aim is to mobilize support for teachers and to ensure that the needs of children will continue to be met by teachers.
World Teachers Day is an important part of raising awareness and understanding for the vital contribution that teachers make to education and to the development of the young.
More than 100 countries observe World Teachers' Day and help to promote the public awareness campaigns to highlight the contributions of the teaching profession.
Razzamataz Theatre Schools fully support the development of the hundreds of teachers who work across the network of theatre schools. There have been many inspiring stories of young teachers who have progressed with Razzamataz and are now the Principals of their own theatre schools.
To celebrate and recognise the contribution that the teachers make, Razzamataz also has a dedicated Award, which is presented at the annual Conference. Last year, the Best Team Member Award was presented to Melanie Simpson from Razzamataz Sheffield. Melanie is the assistant Principal and teaches dance, drama and singing to Minis and Juniors as well as Razz Project Intense. Melanie has been with the school since opening more than four years ago.
Melanie has danced since she was a young child and then went on to study musical theatre:
"I love being a Razzamataz teacher; getting to pass my passion for the performing arts onto our super talented students and watching them progress and achieve. It's really fun and at the same time makes me really proud."

Teaching at Razzamataz has also opened the door for many to progress their career aims. Many of the current Principals started out as teachers for Razzamataz including: Kayleigh Redford, Principal of Razzamataz Newcastle, Marc Kelly, Principal of Razzamataz Hackney, Sophie Atkins, Principal of Razzamataz Wimbledon, Debbie Mitchell, Principal of Razzamataz Carlisle, Chloe Lee, Principal of Razzamataz Chester, Zoe Mckibbin, Principal of Razzamataz Edinburgh, Lauren Kirkbride, Principal of Razzamataz Penrith, Emily Connor, joint Principal of Razzamataz Medway and Charlotte Olivares, Principal of Razzamataz Maidstone.

Kayleigh, Principal at Razzamataz Newcastle still teaches for Dumfries and Penrith and combines her work with being a mum to her young son:
"It's been liberating, fulfilling and yes at times stressful and scary but ultimately massively rewarding. The rest of the network are so motivating and supportive and it is wonderful to be part of it."
Although being a teacher gives you a wonderful insight into running your own theatre school, it doesn't give you the practical skills to run your own business. However, at Razzamataz, there is a fully comprehensive training week, regular support calls, the opportunity to attend as many training sessions as you like for no charge, regular webinars with a host of industry experts and there is always someone on hand to ask for advice.
Kayleigh adds:
"The support you receive is second to none. If you want it, and ask for it, it is there! The best piece of advice I received is to talk to as many people as possible, gather all the information you can and think solutions - not problems! I'm now in the position where I can watch my students and my business grow and thrive and that's a wonderful feeling."
As well as performing arts teachers, Razzamataz also have former Primary and Secondary school teachers within the network who have left their jobs to concentrate on running their own theatre schools. Many have explained that Razzamataz can offer them a better work/life balance and the flexibility it offers is more suited to their own family life.
For new franchisees, Razzamataz has a special offer of just £7,995 (£2,000 saving) to launch a Razzamataz theatre school.
Find out more about franchise opportunites with Razzamataz Theatre Schools by clicking below
What

Our Franchisees Say

I don't have a business background so after deciding to retire from professionally performing it was the memories of Razzamataz on Dragons' Den that set the wheels in motion. I was really inspired by the brand and the business model and because it is a franchise business we receive a lot of help and support from Head Office as well as on-going training so I can make Razzamataz Barnet the success that I believe it can be. In the last 12 months, I have doubled my student numbers in a very competitive market and I have now clear plans on how I would like my business to progress this year.Michael French, Razzamataz Barnet

The support from Head Office is fantastic and they are always there to listen and to guide you through. You are getting advertising/marketing ideas, contacts and systems provided for you that you may not have if you were to open an independent school.Amy Latchman, Razzamataz Rickmansworth.

The support and training we get means that we can get help on any aspect of our business. It has also been a fantastic and rewarding way of working, allowing me to continue to be there for the family while running my own business.Lisa Roberts, Razzamataz Rickmansworth
Why

Choose Us

Affordable part time performing arts lessons

One of Dragons Den most successful investments!

TWO franchises for the price of ONE!
Related

Franchise Categories
Related

Franchise Types