Papa John's Franchisee's Second Store is Just the Start!
19th September 2017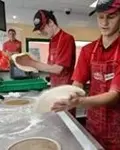 Leading pizza franchise, Papa John's, has announced it has now opened in Ashton-Under-Lyne, Manchester.

Franchisee, Peter Gill, who also runs a Papa John's in Grantham, has recruited around 20 local people to help him manage the new store which is located on the Heys Retail Park.
Peter Gill explains:
"I joined Papa John's last summer. Before that, I worked in the insurance industry so it's been a significant change for me, plus a big learning curve! It was always my intention to open multiple Papa John's and so my second store is really just the start!
I chose Ashton-Under-Lyne as it has lots of potential and the area continues to attract investment. We are in a great footballing city so look forward to serving-up our top-quality pizza, made with only the freshest ingredients to football fans and their families as well as local residents and students too!
A number of house-hold brands already occupy sites on the Heys Retail Park including Tesco's, so we anticipate lots of walk-in trade. There is plenty of parking which makes a visit convenient for customers. I'm pleased to report, all our staff have now all been trained up and are ready to deliver!
Papa John's is currently running an incentive scheme for franchisees which I have been able to take advantage of. It offers some free equipment, help with marketing and reduced royalty fees for new stores. Every penny counts when you start a new business venture and so bringing this to the table is good timing and will help us taste success quickly!
Up until now, I've been very hands-on in the Grantham store, but with expansion I see my role changing into more of an operational one. I have learned much from opening my first Papa John's and look forward to using this experience to help with the running of Ashton-Under-Lyne and other potential outlets in the future."
Papa John's is one of the largest pizza companies in the world and has opportunities for franchisees throughout the UK. Help is provided with location selection and full turn-key opening of stores. As a franchise, the Company supplies all the assistance needed to get your successful Papa John's up and running.
Find out how you can start your own Papa John's franchise by clicking below