Wilkins Chimney Sweep Take On Their 15th Franchisee!
28th June 2017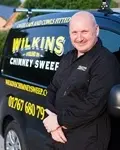 Andy Neville owner of Wilkins Chimney Sweep Bedford
Wilkins Chimney Sweep has recently awarded their 15th franchise to Andy Neville who lives in Everton, near Sandy, in Bedfordshire.
The franchise, based on an operational chimney sweeping business that was originally founded in 1895, has swept to success in the seven years since being franchised by husband and wife team Peter and Louise Harris.
To ensure a year-round business for their franchisees, the franchise opportunity now includes PowerClean, a trailer-based, power- washing system for patios, drives and other external areas which can be used during the traditionally quieter summer months.
Franchisees also now benefit from a new bespoke, tablet-based booking system which the franchisor developed with the ability to book sweeps and cleans in a geographically 'intelligent' way, to ensure maximum time efficiency for franchisees.
Family man and latest franchisee Andy, who lives near Sandy in Bedfordshire, first met Peter and Louise on their stand at the Franchise Show at the NEC in October 2012 and they've been in discussions ever since.
Andy previously worked in his family-owned stationery manufacturing business, until competition from foreign markets forced the closure of the company. Andy then spent some time working as an estimator for a fencing contractor.
Andy says:
"I am really excited to start my new Wilkins Chimney Sweep business; I was looking for a business which allowed interaction with a variety of customers and something which allowed me to get my hands dirty! I liked the fact that the Wilkins Chimney Sweep business is an 'old fashioned' style of business but with a professional and 21st century technology set-up."
On why he chose to buy a franchise rather than set up on his own, Andy said:
"I liked the idea of gaining knowledge through training from head office and also having not only head office but also other franchisees to call on, if I needed advice on technical aspects of the job. The combined knowledge and experience of all involved is priceless."
Bfa board member and franchise director Louise Harris said:
"It is an absolute delight to welcome Andy to the Wilkins Chimney Sweep family. He has now completed both his practical and his office-based training and is back in Bedfordshire, ready to start taking bookings for his chimney sweeping services now and to start cleaning patios and drives at the start of next year.
Although five years may seem a long time to be in discussions with a potential franchisee, sometimes the timing isn't right for the applicant due to other events in their life. We actively encourage people take the time, to do their research on all of the opportunities available to them, to take appropriate legal advice from a specialist franchise solicitor and to make sure they are 100% happy about their decision to join us, after all, we're all in this for the long-haul together, so better to get it right from the start!"
Wilkins have a list of award wins to their name including the bfa's 2016 Micro Business Franchisee of the Year awarded to franchisee Richard Bryan and franchisee John Baldacchino is in the finals for the same award this year.
Wilkins Chimney Sweep currently has territories for sale across the UK. If you would like to know more about owning your own Wilkins Chimney Sweep franchise just click below
What

Our Franchisees Say

WILKINS CHIMNEY SWEEP have been very supportive in providing both practical training, and also advice on how to run a business with accounting and tax information.

I liked the idea of working for myself doing something more hands on than I had been used to as an ex-surveyor. Franchising gave me professional backup, training and an established name to use.
Why

Choose Us

We are the only bfa accredited chimney sweeping franchise

Annual repeat business with excellent cash flow!

Build a sustainable, ethical, saleable and scalable business
Related

Franchise Categories
Related

Franchise Types