Papa John's is a Recipe for Success in Llanelli
15th May 2017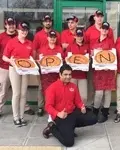 Leading pizza franchise, Papa John's, has announced its latest store opening in Llanelli, Carmarthenshire.

Franchisee, Umar Malik, now employs around 200 staff across his ten Papa John's in South Wales including Swansea, Newport, Cardiff and now Llanelli.
Umar confirms:
"Llanelli is the largest town in Carmarthenshire and so is a fantastic location for us. Many customers have been able to try our top-quality pizza in our other stores and so are delighted now to have Papa John's on their doorstep!"
The Papa John's concepts of: BETTER INGREDIENTS. BETTER PIZZA. continues to prove popular and there are now more than 350 Papa John's in the UK and over 5,000 stores in more than 40 international markets.
Umar first moved to Wales in 2014 after completing an MBA at Carlisle. He says:
"The local community were really friendly and particularly welcoming. Right from the outset when I first opened in Swansea people were enthusiastic to try Papa John's and now we get so many repeat customers across our stores which has been the inspiration to expand throughout the region.
From my point of view, it has also been rewarding to be able to create jobs, which is the life-blood for any community. We are always on the look-out for good staff and for Llanelli, like our other stores, we have found people are quick learners and really eager to work. As we have a big operation now, in return, we offer secure positions, full training plus career progression for those who are keen to take on responsibility.
As my Papa John's portfolio of franchised outlets has expanded, I have been helped by the Company's franchisee incentive scheme designed to assist when opening up new stores. It offers a few key ingredients including: some free equipment, reduction in royalty fees and assistance with marketing. It makes for a recipe for success during those first few critical months of trading. Llanelli has been really busy since opening so I may be on the look-out for more suitable locations in Wales where I can put Papa John's on the menu very soon!"
Papa John's is one of the largest pizza companies in the world and has opportunities for franchisees throughout the UK. Help is provided with location selection and full turn-key opening of stores. As a franchise, the Company supplies all the assistance needed to get your successful Papa John's up and running.
For further information about Papa John's franchise opportunities just click below