Papa John's Turns-Up the Heat on Marketing
15th February 2017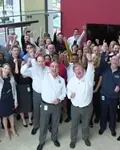 Leading pizza franchise, Papa John's, has announced it has recruited two new marketing executives. Carrie Williams has now taken on responsibility for digital and social media and Fahmida Hussain who is focused on increasing local marketing support for franchisees. Both Carrie and Fahmida are based at Papa John's European headquarters in Milton Keynes.
David Scott, senior director, marketing, who joined Papa John's in 2016 is responsible for turning up the heat on marketing.

David Scott, former brand director for Carlsberg and marketer for the well-known pub retailer and brewer Green King, commented:
"Our goal is to drive sales and build the Papa John's brand from a consumer point of view. We now have more than 350 UK stores and there is a high general level of awareness of Papa John's across the nation. However, moving forward, our task is to ensure customers also really understand our BETTER INGREDIENTS. BETTER PIZZA. proposition.
Highly targeted digital and social media promotion is just one avenue we are using to develop the understanding that our pizzas simply taste better and keep customers coming back for more. Papa John's pizzas are made using only fresh dough, never frozen, plus our unique tomato sauce is made from the best Californian tomatoes, picked and packed from vine to can in just six hours. We want increase awareness of our fresh approach and keep consumers hungry for that better flavour.
As well as digital media, we are now also delighted to have incremental resource dedicated to help solve the marketing challenges of individual stores within the local environment and come up with appropriate promotional strategies relevant to particular geographical locations. This is highly valuable for our franchisees and so far, the tactics employed are yielding particularly positive results in terms of increasing sales.
However, plans don't stop there! We have more campaigns scheduled for this year from TV advertising to digital marketing in addition to some innovative and fun partnership promotions which will engage consumers and get them more involved with the Papa John's brand. You could say: the Papa John's marketing team is now really cooking!"
Papa John's is one of the largest pizza companies in the world and has opportunities for franchisees throughout the UK. Help is provided with location selection and full turn-key opening of stores. As a franchise, the Company supplies all the assistance needed to get your successful Papa John's up and running.
For further information just click below to request your FREE franchise information pack