Razzamataz Brings The House Down on London's West End Stage
23rd November 2016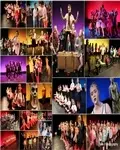 Razzamataz students performing at Her Majesty's Theatre in London's West End
More than 300 children from across the UK had the time of their lives after a gala performance at Her Majesty's Theatre, home to The Phantom of the Opera on Sunday 13th November.
For one night only, the West End stars made way for part-time theatre school Razzamataz to take part in a special gala performance which showcased the talented youngsters and brought the house down with their take on many classic musicals from Matilda through to Chicago and Rent.
Denise Hutton-Gosney, Principal of Razzamataz, says:
"We are so proud of each and every one of our performers at Her Majesty's Theatre," "The energy on the stage was incredible and the audience could not help but get swept along with the joy of the children on stage."
The young casts have been rehearsing for months and had to combine singing, dancing and drama to tell the full story of these classic shows in under 12 minutes. The rehearsal process has given the cast a chance to capture the emotions of the pieces and shown a real sense of maturity and understanding. The challenge for the performers and teachers was to tell a whole host of stories but in a fraction of the time of the original shows.
Denise adds:
"The youngest performer in the cast was just age eight but they all blew us away with how they took on their individual roles and really got into their characters. We have had wonderful feedback on how much the children seemed to be enjoying themselves on stage, which is what it is all about and many of them have told us that this really was a magical experience for them. Making dreams come true is a real privilege for us at Razzamataz."
Razzamataz was delighted to invite 12 of the schools in the network, which consists of almost 50 schools throughout the UK, to create the special gala performance at Her Majesty's Theatre on Sunday 13th November. The show was part of Razzamataz's commitment to offer outstanding opportunities to their students.
Denise adds:
"There are not many people who can say that they have performed on a West End stage. The students really stepped up to the challenge of performing in such a large and famous theatre and this was an experience that they will remember for the rest of their lives."
The Principals, teachers and staff are very proud of students at Razzamataz. The school's ethos is to have fun, meet new friends, build confidence and learn skills in the performing arts and this show is just one of the ways students have of showcasing all they learn every week at the theatre school.
Razzamataz creates 'triple threat performers' meaning students leave being skilled in dance, drama and singing. During their time at Razzamataz, they will cover lots of different genres from classic West End musical theatre through to acting for camera, street dance and pop singing. There are lots of opportunities to perform locally and on London's West End stage and many students are securing professional work, filming adverts and performing professionally on stage.
The fun classes are for all children whatever their background or ability and there is a strong focus on keeping fit and active, having fun and making friends. Classes start at age two and go on to 18 and there are lots of opportunities to perform giving children the opportunity to grow in confidence.
The fourth show at Her Majesty's Theatre in the West End was without doubt the biggest and best yet. Here is just a taster of how the schools entertained:

Carlisle: Two amazing performances from the students giving us their versions of two very feisty young girls. The students showed the ups and downs in the journeys of both Matilda and Annie.
Dumfries: Beautiful singing and fabulous story telling showing the journey of discovery, fear, love and laughter in the Pride Lands with the students take on The Lion King.
West Cumbria: Students took us on a journey to Skid row and a run down flower shop for their version of Little Shop of Horrors.
Barnet: We journeyed back to the 1970's and 1980's ska scene, where one step went beyond, people went driving in their cars, we wore baggy trousers and our house was in the middle of our street! Madness all round!
Paisley: Based on the iconic love story Romeo and Juliet, the high energy performance highlighted the love torn feuds between the Montagues and Capulets with some feisty dance moves thrown in for good measure.
Sheffield: All that Razz was a modern take on the hit musical Chicago combining some of the classic numbers with a few surprises along the way.
Weymouth: We were singing and dancing in the aisles as the cast transported us to an idyllic Greek Island. Inspired by the West End hit 'Mamma Mia!' Dancing Queen was a fun filled journey of self-discovery, love and friendship.
Medway: Closing the first half, this rock opera based on Rent, was an emotional and mature performance following the ups and downs of a year in the life of a group of impoverished, artistic friends living and struggling in Manhattan, New York.
Glasgow: The audience were clapping in the aisles with this feel good musical featuring the most popular and iconic songs from The Proclaimers.
York: Fantastic costumes and cleaver storytelling. Students chased the mysterious White Rabbit and saw Alice fall through the Rabbit hole to land in Wonderland and meet all the crazy characters living there.
Yeovil: Geek. Poser. Jock. Wannabe. An original and thoughtful piece showing the challenges of transitioning from youth to adulthood. Great songs full of teenage attitude.
Mansfield: Closing the show with a splash of glitz and glamour with a medley of fantastic songs from Barry Manilow's hit musical 'Copacabana'.
Find out more about the Razzamataz Theatre Schools franchise by clicking below to request your FREE franchise information pack
What

Our Franchisees Say

I specifically wanted to go for a franchise, and in particular Razzamataz because of the support from Head Office and other Principals. This is a network of theatre school owners so you are in business for yourself but not by yourself.Alison Beveridge, Razzamataz Durham.

It was 10 years ago that I left hairdressing and for anyone thinking that it is too late to change their careers I would say step out of your comfort zone and just do it. I never thought I would be able to and it's the best thing I have done and wished I'd done it years ago!Pam Dixon, Razzamataz Dumfries

The support from Head Office is fantastic and they are always there to listen and to guide you through. You are getting advertising/marketing ideas, contacts and systems provided for you that you may not have if you were to open an independent school.Amy Latchman, Razzamataz Rickmansworth.
Why

Choose Us

One of Dragons Den most successful investments!

Affordable part time performing arts lessons

TWO franchises for the price of ONE!
Related

Franchise Categories
Related

Franchise Types