Signs Express Supporting Local Charity to take to the Skies
29th September 2016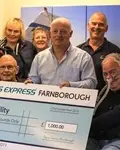 Front Row - Brian Catchpoole (Operations Manager, Aerobility), Tim Burt (Centre Owner, Signs Express Farnborough), Mike Miller-Smith (Chief Executive, Aerobility)
Signs Express Farnborough has been recognised in the franchise's biannual review of all branches. Winning a number of charitable donations to be split amongst the team's choices of local initiatives. Aerobility charity is one of the lucky choices to receive one of these donations.
Since 1993, Aerobility has been offering disabled people the opportunity to fly a plane, in the belief that realising the fantasy of flight can change the flyers own attitudes towards being disabled.
Despite the fantastic results that the charity has produced in its local area for more than a decade, it is critically short on funds, relying entirely on donations from organisations and charitable trusts, together with fund raising done by the charity's supporters. As a long-time supporter of this initiative, Signs Express Farnborough has decided to donate £1,000 to the cause.
Tim Burt, owner of Signs Express Farnborough and dedicated supporter of the charity commented:
"Aerobility offers a unique opportunity to wheel-chair users and other disability groups to experience the sensation of flight and for those who can, gain the same flying qualifications as the able-bodied. It has been a pleasure to get to know Mike and the team who make this happen. I am thrilled to be able to support their inspiring work."
The £1,000 donation will go an awfully long way to support the charity, as £15 is enough to fund a course of simulator sessions for a student to help them to achieve the dream of flying solo. Tim hopes that his donation will assist the charity in achieving its long-term goals of improving its services and adding additional activities.
Mike Miller-Smith MBE, Aerobility Chief Executive commented:
"The team at Signs Express in Farnborough have been, and continue to be, fantastic supporters of our work – helping disabled people to find out their abilities through the magic of flight. Taking the controls of an aircraft is really empowering, and to have the support of local business makes this possible for even more disabled flyers. Some of the best things in life happen by accident, we got in touch with Signs Express last year as we needed to put the charity logo on one of our aircraft, and that chance meeting has built into a valuable relationship. Tim and Steve have become great friends and supporters of the charity, and we look forward to continuing and building on the relationship, working together to genuinely change lives and providing mutual benefits for both organisations."
Find out more about the Signs Express franchise by clicking below to request your FREE franchise information pack