Match Options Franchise
Expansion in the North East for Match Options
3rd May 2017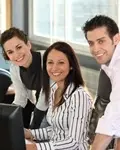 Match Options ended the first quarter of 2017 with the opening of a new branch in the North East, covering Middlesbrough and Darlington.

The Match Options Darlington branch is a franchise operation taken by Nimrit Hayre. Nimrit has a business background having run his own logistics business for several years. He had been interested in researching an additional business,

Nimrit outlines:
"I was looking for a second business and I liked the business concept of supplying nurses and care support workers to care homes and to the NHS. I felt that it is a rewarding and profitable business."

Nimrit has taken on an experienced Recruitment Consultant within his business from day one to allow him to continue to oversee his logistics business, but focus on the business development within the Match Options franchise.

Both Nimit and his staff member attend the franchise training and Match Options received this feedback from staff member Owen Allison from the Darlington branch:
"Firstly, I just wanted to thank you again for the training received by both Nimrit and myself, we both felt so welcomed and at ease throughout the process. You and your staff were amazing with us and we appreciated your hospitality and kindness."

Nimrit has now have opened the Darlington branch and are currently focussed on the recruitment of workers to start supplying and building the business across the North East.

Match Options has been in the healthcare sector since 1999 and operates from both direct company owned and franchise branches across the UK. They are looking for further franchisees to help support the national relationships and contracts they hold.
Find out more about the opportunities with Match Options franchise by clicking below to request your FREE franchise information pack

Match Options Franchise News