Papa John's Franchise
Features
Events
Videos
Resales
Papa Johnís Youngest Franchisee Opens Fourth Store
28th February 2017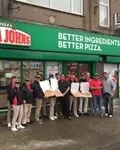 Leading pizza franchise, Papa John's, has announced its youngest franchisee, Abdul Kasana (27) has opened his fourth franchised store.

The new centrally located Cleethorpes Papa John's is on Grimsby Road and will employ around 20 local staff. Abdul who first joined the Company in 2016, also runs two Papa John's in Nottingham plus one in Ilkeston.
Former education consultant turned Papa John's franchisee Abdul Kasana confirms:
"I believe Cleethorpes represents a gap in the pizza market. With Papa John's gaining ground and expanding rapidly in the UK, if I didn't open there, someone else would!
My journey so far with Papa John's has been a good one. There is no-doubt it's hard work, however, the product is top class and we are getting some great customer feedback. Papa John's concepts of: BETTER INGREDIENTS. BETTER PIZZA. proves increasingly popular. It means we only use fresh dough, never frozen, which gives a better flavour and the customers just keep coming back for more!
As a franchisee, I have found Papa John's incentive scheme particularly valuable. It is designed for franchisees starting out and has been key when it comes to opening more stores as it offers some free equipment, reduced royalty fees and help with marketing. It makes opening multiple Papa John's easier, so watch this space!"
Anthony Round, business development manager, Papa John's confirms:
"Papa John's now has over 350 stores across the UK and more than 5,000 around the world and we continue to grow. As a result, we are actively recruiting for more enthusiastic franchisees hungry to join us and become part of our success story."
Papa John's is one of the largest pizza companies in the world and has opportunities for franchisees throughout the UK. Help is provided with location selection and full turn-key opening of stores. As a franchise, the Company supplies all the assistance needed to get your successful Papa John's up and running.
For further information about Papa John's franchise opportunities just click below to request your FREE franchise information pack

Papa John's Franchise News