Premier Franchise
Olympic Gold Medallist Duncan Goodhew MBE to Become Premier Chairman
16th November 2017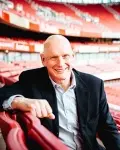 Premier are thrilled to announce that Olympic Gold Medallist swimmer Duncan Goodhew MBE will now officially join the organisation as Chairman. Duncan Goodhew is no stranger to Premier, and in the past has served as a Premier Education Group Director and Premier Sport Ambassador, where he visited UK schools and inspired children to lead healthy and active lifestyles.

This new role will allow him to join the organisation in a more official capacity, where he will be working closely with the executive team to deliver the ambitious and exciting growth plans, to fulfil the potential.
On his appointment, Duncan said:
"I'm delighted to be new chairman because Premier has shown it can be a leading organisation. It has shown it is leading because it's about doing things better. That's a journey which is always worth being on.
For me Premier has managed to get into a position where they are looking at the holistic development of young people, how we can help them not just become more physically active but also, more conscious of their diet, how activity can improve their academic attainment, and that's an exciting journey to be on, and a way of making a living as well."
Since his bronze and gold medal-winning swims in the 1980 Olympics in Moscow, Duncan Goodhew has become a household sports name in the UK and beyond. At the 2012 Olympics in London he served as Deputy Mayor of the Olympic Village and was one of four athletes that carried the Olympic torch into the stadium.
Now, Duncan will add Premier Chairman to his long list of titles. As he has been a long-time Premier partner, the move seems only natural. For many years, Goodhew has been supportive of Premier's healthy living initiatives and shared its fundamental goal of promoting the importance of children participating in physical activity.
Duncan continues:
"Developing a healthy interest in sport and exercise can play a crucial part in the future wellbeing of our children. Premier coordinates and supports a team of highly-trained, properly-qualified coaches across the country.
Their work provides children with a higher quality of sport and PE. It's exactly what has been identified as being required to meet the needs of local education authorities, schools, parents and most importantly of all, children themselves."
Duncan's new role with Premier comes at a time of significant expansion for the organisation. Premier are not only broadening their franchise network across the UK but growing internationally, now offering programmes in the United States and India. Premier has also just forged a new partnership with New Balance, who is set to be the organisation's official kit provider.
With Premier's list of key partnerships only continuing to grow, it's clear that the organisation's healthy lifestyle initiatives and success in inspiring children to take part in physical activity have made waves in the wider sports world. Adding sport stars like Duncan Goodhew to its ranks only marks the beginning.
Find out more about the Premier Franchise by clicking below to request your FREE franchise information pack

Premier Franchise News