After the dance – what's next for musical theatre performers?
West End musical theatre performers and dancers have notoriously short careers. Some go on to be choreographers or dance teachers but the choices available to bring in a steady income is fairly limited.
Many look to retrain but it must be daunting for those who have spent their life on a stage to suddenly up and try to established themselves in a whole new area.

However, performers have a lot of transferable skills, including drive, commitment and determination, which can make them hugely successful entrepreneurs.

Razzamataz Theatre Schools is a franchise business which gives franchisees the opportunity to run their own part-time performing arts schools even if they have very limited business knowledge. This makes it ideal for retired performers who want to balance a financially rewarding career with their love and experience of dance, drama and singing.
Razzamataz has many proven systems, procedures and operating documents for franchisees that have proved to work time and again. From press releases that can be sent to local newspapers to advertising and marketing plans, Razzamataz will help franchisees every step of the way, making the business ideal for those who haven't considered running their own school before.
Meet some of our franchisees from a performing arts background who are combining their skills and strong work ethics with a fulfilling business venture.
Shelley Fitzgibbon, Razzamataz Wokingham and Woodley
I was a professional performer for ten years appearing in numerous shows including Oliver, 42nd Street, Anything Goes, Carousel and Stepping Out.

I think you feel a failure when you decide 'that's it'. You have worked for something all your life and even though you have had a successful career the day you decide to 'give up' is a very big decision. Someone once described the industry as a 'fruit machine'. You daren't leave incase you get that big pay out (or in our terms that big role!)

Corporate companies and 9-5 employers are not interested if you can sing a TOP C and put your leg around your head! But actually I have seen many friends go onto very successful careers running their own schools, as fitness instructors, and as events managers.

I think finding something where you can transfer your skills is the key. For Razzamataz I use skills I learnt even in my first year at Drama school.

When considering my options, I wanted something that would earn me a substantial salary so I didn't have to scrimp and save the same way I had in Musical Theatre. One minute I was drinking champagne playing a lead - the next I was handing out cheese samples in Sainsburys (that's the truth and harsh reality!)

I also wanted something that wasn't so disabling on my body and something I could do for a long time, although flexibility was key because I was desperate to be a mummy. I love working with children so a theatre school seemed ideal.

I decided on Razzamataz because the set up fee was far less than other franchises, I could get a loan so didn't need a big deposit and I liked the fact that you could put on big shows.

I've been open in Wokingham for five years and have 153 students at that branch and Woodley for four years with 70 students. Both these schools have allowed me to make a good living and achieve my objectives.

Much of my success comes from the fact that I have lots of industry contacts, which has been crucial USPs for my schools. I'm a stickler for attention to detail and all round skills in Musicals has helped me recruit a good team and offer parents specialized and in depth knowledge which puts us ahead of the competition.

The areas where being part of the Razzamataz franchise network really helped was in the I.T department. Although my knowledge has improved so much over the past five years, the introduction of an I.T specialist to Razzamataz really helped. He was very patient!

I never thought I would be able to afford the nice lifestyle I now have or even a mortgage at one point! You honestly build up skills for life in performing and the fact that you really know what you are talking about when a parent says to you: "So Josie wants to be a dancer where does she start!?" means you are streets ahead from many other theatre schools.
The fact that you train with other inspiring individuals means that although you may not be an I. T expert as in my case - another franchisee may be and they are only a phone call away.
Michael French, Razzamataz Barnet
I performed professional for 12 years. I would have loved to have continued in the industry, but being more of a dancer, my body started to slowly give up on me. I performed in 42nd Street (Tour & Stuttgart), West Side Story (Tour & Leicester Haymarket), My One and Only (Piccadilly Theatre, London), Babes in Arms (New Theatre, Cardiff), Chitty Chitty Bang Bang (London Palladium), Elisabeth (Stuttgart), 3 Musketeers (Stuttgart), Singin' in the Rain (Tour), Shaun the Sheep (Tour), along with many pantomimes!

There aren't too many options for performers who don't have a strong education prior to performing arts college. I didn't have any A Levels and went straight to a dance college at 16, so I did not have much to fall back on. A lot of people I know have tried to stay in the industry, by becoming agents or working behind the scenes and a lot go on to teaching.

For many years, from my mid 20's, I had often thought about what I wanted to do after. I wanted to stay on stage for the rest of my life and I found I did not really have a passion for much else. After years of deliberating between becoming a physio, personal trainer, photographer and others, I decided running my own business was something I could do and thought about my own school.

My Dad and sister have run their own businesses for many years, so I thought this would be something that might just be in my blood. I had no experience in this sector so becoming a franchisee seemed the best option. I have a lot of passion for performing arts and expertise, but running a business was something new and I had never studied business. I remembered Razzamataz from Dragons' Den and I actually already knew two Razzamataz franchisee's who helped me make my mind up.

We are now into our 8th term and opened in April 2012. At the moment we have around 90 children that attend our weekly sessions. On day one we had around 12, so we have grown considerably over the past few years.

I think ex performers bring a lot of experience and understand the parents and children a lot better. I grew up attending a local dance school aged seven. I have a lot of great contacts in the industry and I do call upon them whenever I can to come and take specialist workshops or ask advice.

Having never run a business before, I lacked any sort of knowledge regarding paperwork, accounting, and just making sure everything is done on time and ready to go. I have learnt so much about business and I now understand and enjoy it a lot more.
Stop press
For a limited time only, Razzamataz is reducing its franchise fee to £7,995 plus VAT from £9,995 plus VAT, plus Razzamataz will waive the management fee for the first term. This is a total saving of around £5,000 and significantly more affordable than many businesses in the franchise performing arts sector. When you consider actual schools can produce a yearly net disposable cash figure of £73,888 this is a fantastic return on investment.
Could this be you?
If you are a performer considering your future and want to find out more about running your own business, make an appointment to come along to one of our regular but informal Discovery Den days in London, Kent, Glasgow or Sheffield to find out more about this exciting and flexible business opportunity.
To find out more about Razzamataz Theatre Schools or to find out about their Discovery Den days just click below to request your FREE franchise information pack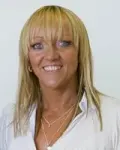 What is a franchise re-sale?
Denise Hutton-Gosney, MD and Founder of Razzamataz Theatre Schools explains why buying an existing franchise can offer you some wonderful advantages.
What

Our Franchisees Say

I specifically wanted to go for a franchise, and in particular Razzamataz because of the support from Head Office and other Principals. This is a network of theatre school owners so you are in business for yourself but not by yourself.Alison Beveridge, Razzamataz Durham.

The support from Head Office is fantastic and they are always there to listen and to guide you through. You are getting advertising/marketing ideas, contacts and systems provided for you that you may not have if you were to open an independent school.Amy Latchman, Razzamataz Rickmansworth.

It was 10 years ago that I left hairdressing and for anyone thinking that it is too late to change their careers I would say step out of your comfort zone and just do it. I never thought I would be able to and it's the best thing I have done and wished I'd done it years ago!Pam Dixon, Razzamataz Dumfries
Why

Choose Us

TWO franchises for the price of ONE!

Affordable part time performing arts lessons

One of Dragons Den most successful investments!
Related

Franchise Categories
Related

Franchise Types