Why forces to franchising is such a good fit
Bright & Beautiful has always attracted a hugely diverse range of people looking to set up their own domestic housekeeping franchise. A highly professional franchise like Bright & Beautiful holds great appeal for people fed up with the stress of juggling demanding jobs and home life.
Women and men have joined Bright & Beautiful from backgrounds as diverse as law, banking, marketing and retail. But where they have seen a real upsurge in interest in recent months is from people leaving or considering leaving a career in the services and the police force, with three police officers and a former naval officer now running their own highly successful Bright & Beautiful businesses.
There is a national trend in franchising with a growing number of ex-military personnel opting to start their own business when leaving the forces, rather than finding an office or corporate role.
There are many reasons for this. After a career – often several decades – spent in an exhilarating environment where each day is rarely the same and you are working as part of an equally enthusiastic and dedicated team, the prospect of a 9-to-5 stuck at a desk often doesn't appeal; but similarly the prospect of 'going it alone' and starting your own business can be overwhelming and often risky.
Sue Mark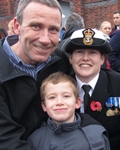 One of Bright & Beautiful's newest recruits who was looking for a new challenge that sat between the two extremes is Sue Mark, who has moved on from a 21-year career in the Royal Navy to run her own Bright & Beautiful franchise in Southampton. Having joined the Royal Navy in 1990, Sue was one of the first women in the UK to undertake the same training as her male colleagues.
She went on to reach the rank of chief petty officer and travelled all over the world, from the US, Canada, Japan and Australia to the Falkland Islands and Iceland. Sue left the Navy in 2012 through redundancy and decided upon Bright & Beautiful after being impressed by their high standards and ethical operations.
For Sue, the appeal of running a franchise included the challenge of both recruiting employees and clients and ensuring that the service she can offer is of the highest standard. Being her own boss also enables her to decide just how each day is structured and to set her own goals, something that is a step-change from working for a company.
Why Franchising?
What franchising offers entrepreneurs like Sue is the discipline, support and organisation of a life in the forces but combined with the challenge of becoming an entrepreneur. Starting any business can be scary but if you know that you have the support and backing of a team of people who have been there and made every mistake possible and worked a way out of them all, it is hugely reassuring.
And that's not to mention fellow franchisees. Something that all of franchisees mention is the genuine warmth and welcome shown to them by their fellow business owners, from chatting on social media and local get-togethers to sharing best practice at our annual national conference.
And a recurring topic of conversation on all these channels and occasions is the benefits of being able to control their own diaries and managing the commitments of career and family, something that is hugely important to men and women with a career in the forces.
And that is exactly why Rachel Ray set up Bright & Beautiful in the first place – to offer an alternative, flexible and professional way of working and being your own boss.
Sandra Reid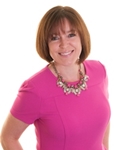 That was exactly what appealed to Hampshire mum Sandra Reid who joined us last year after having enjoyed an illustrious 25-year career as a sergeant in the police force that included working on the London Olympics in 2012, joining 9,000 other officers to police the NATO conference in Wales last year and running a Prince's Trust team program working with underprivileged young people.
Sandra had spotted Bright & Beautiful in Good Housekeeping magazine, in an article that featured Rachel Ray talking about how she had started the business on a budget, something Sandra herself had always aspired to but had never felt able to do. She then began to do her research into their growth, the company branding, the awards and the many stories of our individual franchisees.
For Sandra, the appeal was in recognising that Bright & Beautiful were a professional and ethical organisation that offered a lot of support in all areas of the business for franchisees.
Having run her franchise now for almost a year, Sandra loves being in charge of her own success and being her own boss. The thrill of winning new clients, building her customer base and team of housekeepers and utilising social media to grow the business and interest in it – as well as supporting local charities – have all helped her to create and build a great and thriving business.
So for anyone looking to retire or leave the forces, the franchise route really can be the ideal way to start that next, exciting chapter of your life – and it is one that you get to write from beginning to end!
Find out more about how to start your own Bright & Beautiful franchise by clicking below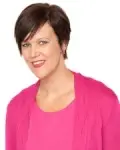 Meet Rachel Ray, Bright & Beautiful franchisor
Find out why franchisor Rachel Ray, decided to start Bright & Beautiful and what this business can do for you.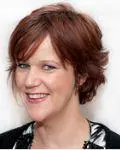 Franchisor Interview - Stepping Off The Corporate Ladder: Doing It The Bright & Beautiful Way
The award winning Bright & Beautiful business model is based around a franchise system that trains women across the UK to manage a team of specialist housekeepers.