Melanie Hillier is a My Best Friend Franchisee Based in the South Cotswolds
"I love my job at My Best Friend – I'm really lucky"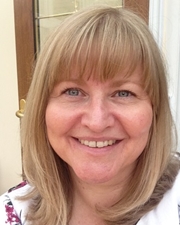 Melanie Hillier is a My Best Friend Franchisee based in the South Cotswolds. After a career in the RAF and then nursing, she wanted to try something different where she could be her own boss and work from home.

A lifelong dog-lover and with a base in the rural Cotswolds, Melanie had considered setting up a dogcare business, but didn't quite get round to making it a reality. When she heard the glowing reports about My Best Friend from a friend, Melanie decided to take a look.
"When I met Jon and Clara at My Best Friend, we just clicked. They are all about the dogs and I am too. I looked at the franchise options and I thought – I could do that."

Although it was a big decision for Melanie – leaving the security of a salary behind and being responsible for her own income. She certainly had doubts at first.

"Of course I worried about it at first, was uncertain that it was going to work. It would have been really easy not to go for it, to stay working for someone else. But I really wanted to be self employed, so I decided to take the plunge.

It took off like nothing else. I only opened on 1st March this year and already the revenue is higher than what we expected from the business plan."
Getting started
Melanie studied for the My Best Friend diploma to give her confidence and the right skills with looking after dogs professionally, and Jon at My Best Friend helped her create a business plan to help Melanie get established within her dedicated South Cotswolds territory.

After making the decision and going ahead with the franchise, Melanie anticipated a quiet period at the beginning of her business. Although it didn't quite happen that way…
"It took off like nothing else. I only opened on 1st March this year and already the revenue is higher than what we expected from the business plan."
Finding clients
Melanie made a name for herself within her territory simply by distributing leaflets and flyers in the local area to both households and local businesses. She also attended marketing events and gave presentations. Thanks to the distinct branding on her van, she very quickly became recognisable as the local dog lady! After the initial marketing push, Melanie gets a lot of her new business through
recommendations from her clients.
"The demand is huge. I get recommendations all the time. The dogs are happy so we've grown and grown."
Over the relatively short time Melanie's been in business she's got to know the dogs in her care – and their owners. There's a real sense of satisfaction when the owners tell her how relieved they are to have found My Best Friend.
When she has dogs boarding with her when the owners are away, Melanie often sends her clients updates and photos of their pets – just to put their minds at rest.

"The owners are amazed at how relaxed and happy the dogs are – they say it's picking up a different dog when compared with kennels."
Melanie has a lot of repeat business, looking after dogs while their owners are at work, or taking dogs for a walk several times per week. As demand has been so great, Melanie is now focusing on finding new carers to help with day care and home boarding.
"I would say don't hesitate, just go for it. I'm so glad I took the plunge and went for it, I'm really enjoying life now… I'm really fortunate!"
Melanie says that the support she got from Jon and Clara in the early days made all the difference, especially as they run their own dog care business and understand first hand what it's like.
Find out more about the My Best Friend Franchise by clicking below to request your FREE franchise information pack
What

Our Franchisees Say

I really enjoy my job and I feel very lucky. It can be unpredictable and no two days are the same, but there�s variety and above all, it�s fun.Melanie Hillier, My Best Friend Franchisee, South Cotswolds

My Best Friend is my livelihood and as a business has to support me and my family. This, I�m pleased to say, it has done � even in our very first year.Jon Roff, Founder

Having always wanted to start my own business, and of course having always loved dogs, My Best Friend was an obvious choice. Their ethos and culture are a great match for me and their franchise packages seemed to be the most comprehensive available.Melanie Hillier, My Best Friend Franchisee, South Cotswolds
Related

Franchise Categories
Related

Franchise Types