Zoe Hayes Runs Her Talking Tots Franchise In Edinburgh
Zoe Hayes runs her Talking Tots Franchise in Edinburgh and tells us about choosing and running her franchise:
Why did you choose franchising?
I always liked the idea of running my own business, but a franchise gives you that along with a proven idea that has been tried and tested across the country. You have the support and advice from head office and other franchisees to keep you on track.
What did you do before taking up a Talking Tots franchise?
I had been working in customer service roles for 16 years and was looking for a change. With a growing interest in child development/psychology and speech and language in particular this was the perfect opportunity to do something for myself that I was passionate about.
What in particular attracted you to Talking Tots?
With both my own boys struggling with speech and language difficulties, I understand the importance of being able to communicate effectively for young children before they start school to allow them to make the most of the classroom environment. So the chance to be able to help children gain these vital skills whilst running my own business that fits around the other commitments in my life was ideal.
What do you enjoy most about running your Talking Tots business?
I like that I am responsible for how well it goes, as with so many things in life - the more you put in the more you get out of it! It is flexible so I can choose my own hours and organise my time to fit in with family life.
What Initial Training and support did/do you receive from Head Office?
Initial training involved 3 days with Lisa and Tracey going through every aspect of running your own Talking Tots business, from the theory behind the classes, how to deliver them, the administration and marketing side of things and support in getting things started with lots of useful ideas and tips. There are then 2 further training days during the first year and they are always on the end of the phone!
What Challenges have you faced so far?
I had little experience of marketing and publicity so this was tricky at first, but as a Mum I knew how I heard of things going on locally and started from there. There are things you learn as you go, for example which are the best places to advertise your classes, local magazines, leaflets in family friendly cafes, or using social media. It becomes apparent quite soon which work best and are worth making the effort for.
What might a typical working day/week involve?
A normal week involves a mix of administration, responding to queries and ongoing marketing, and of course preparing for and running the classes, which is the best bit by far! There is also an element of making contacts locally and keeping up with your competitors as well as planning events. It is great to be able to fit in work with my own studies and still have time for family things. You need to decide what is work time and what is not, to make sure you are using your time efficiently so this requires good organisation.
What is your greatest achievement to date?
I love seeing the progress in children coming to our classes! To see the joy on their and their parent's faces as they join in more each week and learn new skills is fantastic. Children grow up in such a relatively short space of time, and to be a part of this, and able to support their development is a privilege.
Being a franchisee can be hard work at times and requires lots of self-motivation, but is well worth the effort and the rewards are far more satisfying than any previous employment I have ever had. Working with children and their parents is great fun and I haven't looked back since leaving my old job!
To find out how you can start your own Talking Tots Franchise just click below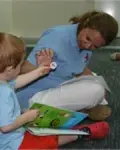 Jeanette Runs Talking Tots West Sussex
Jeanette chose Talking Tots because it allows her work for herself but with a proven business model and support.
What

Our Franchisees Say

The great thing about Talking Tots is that the majority of the work is flexible so I can fit it around spending time with my children....which was the prime reason for taking this step in the first place!Claire, Talking Tots Southend
Why

Choose Us

Talking Tots helps you to achieve that work life balance, be your own boss and have fun every day!
Related

Franchise Categories
Related

Franchise Types