Baby Sensory Franchise brings immediate success for Renee
Baby Sensory Franchisee Renee Micklefield of Bexley, South East London, shares her experiences of running a Baby Sensory Franchise.
At the Baby Sensory training programme in August we were provided with a business planning tool and encouraged to estimate how many parents and babies we expected to have at our classes by the end of the first year. My estimate at that time was that I would have somewhere in the region of 70 at the end of my first three month term and 150 by the end of my first year.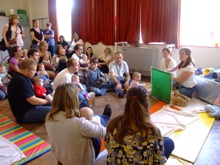 I followed the 8-week business development programme provided by Baby Sensory and made sure that I promoted my classes throughout my territory. I had nearly 100 parents and babies signed up before I even ran my first class. The parents who attended my taster sessions and open days loved the Baby Sensory classes and most of them signed up for their first term straight away. When I ran any tasters, at least 80% always signed on – that's led to my classes being full… Now, word of mouth has really worked in my favour and I have new parents contacting me to sign up every day.
Every class that I run is now full and I am planning to introduce more sessions in my second term (January 2009). By this time, I am confident that I will have more than 200 parents/babies each week!
Why did you choose a Baby Sensory Franchise?
I knew that there was a lot of competition in my area for parent and toddler activities but it was lacking in activities designed specifically for parents and babies. In my opinion, many of the activities which are promoted for babies are actually toddler activities which have been slightly adjusted for babies. This has recently been emphasised by mum Donna Wickham who attends my classes with Adam, age 4 months. She commented, "Baby Sensory is the only group I've come across that is truly just for babies. It's exactly what I was looking for and I love the way the activities actually teach us how our babies learn, as well as being great fun."
I had been to Baby Sensory with my own baby and the main reasons I had enjoyed the Baby Sensory classes were that they were different every week, the range of activities was amazing, there was enough equipment for everyone to join in and the benefits of each development activity were explained to us during the sessions. I spoke to the other parents at the classes and we all agreed that Baby Sensory was the best activity we went to with our babies so the choice was an obvious one.
I chose this franchise over others (I looked at five in total) because of the passion of the founders, the expertise of the Business Directors and because the programme and its activities are based on research! There's a reason for all that we do! I also thought the business model was a very strong one (i.e. a great format of classes and also the set franchise fee vs. percent commission); everything has really been thought through which makes my job easier!
What support do you get from the Baby Sensory?
Before I made the decision to buy a Baby Sensory franchise I spoke to several of their franchisees and they all commented on how supportive the Baby Sensory team are. I have not been at all disappointed.
Web page changes are processed twice a week (Tuesdays and Thursdays) and whenever I make a request it is applied at the first opportunity. I have asked for adverts to be produced for me in various sizes and formats and the Baby Sensory team always make sure the adverts are available to meet my deadlines. If I have babies with special needs at my classes I can always contact Dr Lin Day who is happy to advise me about how activities can be adapted to include all of my customers. These are just a few examples and I have always been completely satisfied with all their responses to my requests.
In addition to the support I get from Baby Sensory there is a good support network between the franchisees. We are encouraged to network with each other and we often share ideas and experience.
To find out more about Baby Sensory franchise opportunities just click below to request your FREE franchise information pack

What

Our Franchisees Say

One of the greatest benefits to me is the joy and job satisfaction I get from running the Baby Sensory classes. The parents who attend are always telling me how much they enjoy my classes and how they use many of the ideas at home.Renee Micklefield, Baby Sensory Franchisee
Why

Choose Us

"We are a fast growing franchise business with a product that is recognised as a leader throughout the world. You will deal directly with the directors of the company and over 75% of our marketing budget is spent on initiatives to help our Franchisees grow."
Related

Franchise Categories
Related

Franchise Types