Investment in Papa John's Pays Off
Ahmed Eldessouki runs eight Papa John's in the South East. From Bath to Burgess Hill to Brighton and a few in-between, Ahmed built his franchise portfolio of stores up from scratch and his story is an inspiration for any ambitious franchisee.
It was a chance recommendation from a friend that first led to Ahmed getting a job in the kitchens at his local Papa John's store in Reigate.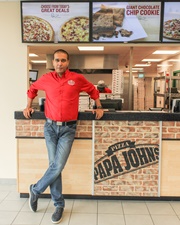 Ahmed says:
"I always knew I wanted to run my own business but it was just a twist of fate that brought me into the food industry with that first job!
I started in the kitchens, then became a driver. I made my way up to supervisor and then manager. I also spent some time at Papa John's corporate before I got the opportunity to invest my first franchised store. It is hard to imagine where I'd be today if it hadn't been for my friend suggesting that very first role in food preparation!
I remember my first day a as a franchisee was Boxing Day in 2007! Initially I bought the Maidenhead franchised store and built up the business and sold it on after a couple of years. This gave me the seed capital to start building my franchise portfolio. With some funding from the bank, support from Papa John's, plus the Company's special franchisee incentive offers, I now employ more than 100 staff across eight stores. I also have plans to open a further 12 outlets along the South Coast and in South London within the next five years.
Buying into Papa John's was a big investment but it has paid off! I had completed much of my training 'on the job' however, Papa John's helped me train my staff in-store as well as providing head office courses and an online learning system for my employees.
However, the investment in the franchise covers far more than just training. It offers the chance to run and grow a very successful business. Of course, there have been tough times, however Papa John's staff have always been supportive and provided assurance that the Company's tried and tested formula will work and it does!
The greatest challenge is finding the right staff. If you just own one unit you do everything yourself. However, with multi-units you need to be able to delegate confidently and so a great team is essential. Quite simply I couldn't do it without them!
I try to choose people who are 'hungry for success'. It's ok if staff are efficient and on-time but I need them to want to make their mark. I try to employ a manager who wants to become an area manager or kitchen staff who want to become drivers and then give them the opportunities to succeed. If they want to grow they put the effort in.
One key member of the team is my wife Kinga. When we started out I ran one store and she ran another. These days we have more of a managerial role. I spend most of my time visiting my various stores, looking at the numbers and reviewing the wider picture.
Although the quality of the product speaks for itself - our Better Ingredients, Better Pizza concept is always popular - planning and marketing is also important," continues Ahmed. "The recent corporate TV advertising has really helped improve sales, which is an exciting development. However, we also run our own offers to drive business too.
The highlight for me so far is achieving record sales at the end of last year in one of our stores. We planned and executed a great, focused marketing campaign and recorded the highest ever sales in the UK for one week!"
Anthony Round, business development manager, Papa John's comments:
"We encourage applications from potential multi-operation franchisees like Ahmed, keen to become part of Papa John's success story. The combination of our popular pizza, excellent customer service, rapid delivery times, strong brand, comprehensive staff training plus hard hitting marketing support and the franchise serves-up a fantastic offer for those looking for a quality investment opportunity."
Papa John's is one of the largest pizza companies in the world. As a franchise, the Company supplies all the assistance needed to get your successful Papa John's up and running including help with location selection and shop fit-out. For further information click below