Introducing Ken Bevis from Signs Express Grimsby
As one of the first members of the Signs Express network Ken has successfully owned and operated Signs Express in North and North East Lincolnshire for the last 20 years, currently employing 20 staff with a turnover of £1million.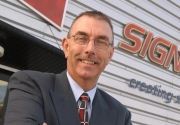 Ken's business provides a complete design, manufacture and installation service for all forms of signage, including interior and exterior signs, vehicle graphics, exhibition and display products, window graphics and health and safety signage. Ken has an enviable client list including two large oil refineries, a large agricultural company and a national holiday company.
In 2010, Ken was one of just two franchisees to be elected to the Board of the British Franchise Association (BFA). This was a huge achievement as in its 35 year history the BFA had never before appointed franchisees to its Board. Over the years his achievements have been recognised through numerous award wins; a highlight being named Franchisee of the Year at the 2009 Signs Express convention.
We invited Ken Bevis to share his experience and insight to inspire those who may be considering developing their own career by buying a franchise.
Ken sets the scene on how he entered into franchising:
Before 1992 I operated a road haulage business, primarily involved in UK exports, which was successful for a number of years. Many people will remember the worldwide ban on British cattle and meat exports due to CJD back in the early nineties. I knew this had the potential to damage my business so before the downturn could take hold I decided to move on. Signs Express was advertising at the time and the opportunity of setting up a franchise interested me. After visiting Signs Express in Ipswich, which was then their only franchise sign production centre, I was convinced that this was the right avenue for me. I could see the potential and diversity in this line of work, which would challenge me and hold my attention. It also had a practical focus – something that I could be hands-on with – which appealed to me.
Why does Ken believe in franchising as a good business model?
The two co-founders of Signs Express convinced me at the time that their format and ethical approach to franchising would provide a good model. 20 years down the road that's been proven, with a network of over 70 franchisees surviving the recession. Statistically the failure rate of UK small and medium sized start ups in the UK is 7 in 10. In franchising it is just 2 in 10. A well-managed and well-thought through franchise can be far more effective than a stand-alone business start up.
In Ken's view, what has enabled Signs Express to grow from strength to strength?
Technology has always driven us forward in every area of the business, particularly production and communication, which is what we're all about. As a network we are always evolving, continuing to look inwardly and externally, moving with the requirements of the world, plus maintaining our position in the market place. We are never standing still.
What business achievements in the last 20 years is Ken personally most proud of?
From starting up with just one member of staff to now operating a 7000 sq ft centre that I own, with 20 staff and a £1million turnover; because of solid foundations and a strong family commitment I know that my centre has the ability to continue for many years after I've gone.
If Ken had to distil his learning over the years into three top tips, they would be:
Always review how you operate. Continue to invest in staff. Never forget where you came from.
If you would like to find out more about Signs Express then don't delay and click below to request your FREE franchise information pack