High Flyer Paul Fabian makes the grade with ChipsAway
Now into his twelfth year with the UK's leading automotive paintwork repair brand, high flying ChipsAway franchisee Paul Fabian has built an impressive management franchise business, with two ChipsAway CarCare Centres on adjacent territories, a team of six employees and an active 13,000 strong customer base.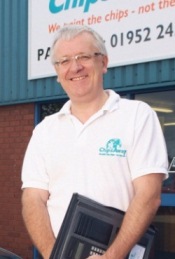 Last year, Paul, whose consistently high performing business, together with his contribution to the network and support of fellow franchisees, scooped the top title of 'Franchisee of the Year' at the company's first ever Annual National Conference and Awards Dinner – an accolade well deserved, according to ChipsAway Chief Executive, Time Harris.
"Paul is a great ambassador for our brand and an excellent role model for our franchisees" he says. "He started as a 'man and a van' operator, but through determination, hard work and proactive marketing, he has steadily grown his business into a highly lucrative, thriving management franchise that's worth very many times more than his original investment.
His passion and enthusiasm has created a strong, secure business with a loyal customer base and the potential for continued growth and profitability."
A former engineer with the RAF, when Paul left the Forces he decided to work for himself and set about looking for a practical, hands-on business opportunity with the potential for him to earn big money and retire early. Having researched various opportunities, he joined ChipsAway and launched a mobile van based operation, quickly building a reputation for outstanding customer service.
Just two years later, unable to cope with his rocketing workload, Paul decided to open his first ChipsAway CarCare Centre (fixed-base workshop) and took on an employee to enable him to continue to offer mobile services.
The move to a CarCare Centre meant that Paul could process many more vehicles as well as undertaking larger scale repairs. Business growth accelerated as a result, leading Paul to invest in a second CarCare Centre, bringing his wife Kim on board to help him manage the expanding operation.
As demand for his services continued to grow, largely through word-of-mouth recommendations and repeat business from satisfied customers, Paul recruited more technicians.He Currently, his team is busier than ever, repairing an average of sixteen cars a day.
"Last year was my busiest yet, and I'm on track to achieve an increase in turnover again this year" Paul confirms.
Although he describes his former income from the RAF as 'a decent salary', he says there is simply no comparison with current earnings.
"I earn massively more than I ever could have done with the RAF, and my ChipsAway business just keeps going from strength to strength."
"ChipsAway is a great franchise" he concludes. "If you are prepared to work hard and promote your business, you really can acheive amazing results. I always believed that I would be this successful. I could see the potential of the franchise from the outset and planned that from being a one-man-band, I would eventually develop my business into a management franchise and make a lot of money - and that's exactly what I'm doing."
ChipsAway is the UK's leading automotive paintwork repair franchise with around 350 specialists in operation nationwide, as well as a network of Master Franchisors overseas.
Based on unique technology, the ChipsAway system continues to dominate in the 'on-the-spot' repairs sector, removing scratches, bumper scuffs and kerbed alloy wheels on a same day basis, and usually at a fraction of the price of traditional body shop repair methods.
Franchisees operate from professionally liveried ChipsAway vehicles, customised into fully equipped mobile workshops, with the opportunity to expand rapidly into a major management franchise with multiple vehicles, territories and CarCare Centres.
With over 34 million vehicles on the road and up to 22 million minor damage repair opportunities every year, ChipsAway estimates that currently it serves only 3% of its potential marketplace.
To find out more information about ChipsAway franchise just click below

What

Our Franchisees Say

I could see the flexibility of ChipsAway's business model would work for me. Working for myself as a franchisee is a world away from my life before.Neil Dobson, franchisee since 2013

I'm absolutely thrilled with the way my business is going. I wanted something flexible, that was not massively expensive and which had the potential for growth. ChipsAway fit the bill and has proved to be everything I'd hoped for. 'It does what it says on the tin', and if you follow the business model you can't go wrong!Andy Cornell, franchisee since 2011
Why

Choose Us

Brand Leader - ChipsAway is the UK's leading minor automotive paintwork repair brand

Fantastic earnings potential - Many franchisees achieving in excess of £80,000 pa, some turning over £300,000 pa
Related

Franchise Categories
Related

Franchise Types