From Hovercraft Hero to SMART Repair Franchise Supremo - Russell Hudson, owner of Revive! West Lincs
Russell Hudson, 38, became owner of Revive! West Lincs in 2006. He'd just spent ten years in the hospitality business, and fancied getting his hands dirty . . . .
How and why did you get into franchising?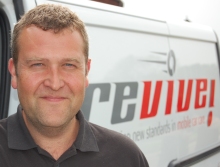 I left college with an HND in hospitality and spent a few years in the pub business. Then I joined Crown Management Systems, producing retail computer software for the hospitality trade.
It was great money. But I was away from home a lot. And it was difficult to get time to devote to my hovercraft – I won the British Formula 503 Hovercrafting Championship in 2006.
I was 35 and decided I wanted to work for myself. I spent 18 months doing a lot of research on the internet and looking for something different. Franchising was the obvious thing. It was something I could be successful at quickly.
Why did you choose Revive!?
Choosing Revive! was a no-brainer – it fitted everything I wanted.
I'd always liked getting my hands dirty, and messing about with boys' toys so the practical side of the business was perfect.
I had phone conversations with several companies, and Revive! seemed a decent organization. The MD Mark Llewellyn was a nice guy.
I liked the big territory they give their franchisees – a whole county, instead of three postcodes that you get with other companies. Revive! wanted their franchisees to build up a business based on five vans. Five years down the line I didn't want to be a repair man in a van – I wanted to be managing a team.
The SMART repairs market is very competitive. But given my expertise with engines it was something I knew I could get good at very quickly.
How did you get started?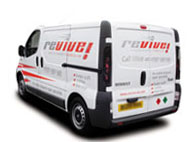 The Revive! training was very good. I drove to Rugby every day for a month to learn how to paint. From day one I was working on real customers' cars.
Then the company sent a more experienced franchisee to spend a week with me. We didn't bill a great deal, but we did pick up a couple of accounts that I was able to build on.
I started in July. It was a funny month because I had a two-week holiday booked for the world hovercraft championships in August. But I've never been one to sit around and do nothing – the busier, the better.
Then in October my wife was made redundant so one salary disappeared – the pressure was on. Then she got pregnant. I had to make a go of it.
How's it going? And what about the recession?
Becoming a franchisee for Revive! was a big commitment – I was kissing goodbye to a very nice salary. But last year I earned just as much as I've ever done.
In the first year business ticked along nicely. In the second year the business trebled. And last year, even in a recession, turnover was up 20 per cent on the previous year.
We now have three vans: I got the second in April 2007, and the third in March 2008. I hope to get two more next year. Then I'll be able to take a more active role in the sales and management side.
But to be honest, it's not about money. It's about quality of life. And it's 200 per cent better than it used to be. Not only am I my own boss, we've got a baby son, and I can get home in time to spend time with him in the evenings.
The business has to come first, but so long as things are running smoothly I can take time off for a social life.
The recession doesn't seem to have had any effect. We're not limited in terms of the people we can work with. Dealerships are still selling used cars. The public are more aware of what we do. Families are keeping their old cars for longer and getting them repaired. We've got national accounts with companies that do vehicle leasing like HSBC and Lex. That's all pretty recession-proof.
It's hard work. We can't sit back and expect it to happen. But I'm not worried.
Tell us about the hovercraft?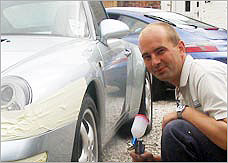 My dad gave me some plans for a racing hovercraft for Christmas when I was 15. We built it together and we've been involved ever since, both nationally and internationally.
In 2006 I won the British Formula 503 Hovercraft Championship which involved competing in about eight weekend events all over the UK. I've been ranked fifth in the world as well.
My hovercraft is a 50hp Moto. It does 50mph on the water – that's pretty fast.
Would you recommend a Revive! franchise?
I'd definitely recommend Revive! They've got it right in terms of the package: a good team in head office, good training, and good support. They were brilliant when I had a few teething problems with staff.
I'd had 10 years in the corporate world before I joined Revive! and they are as professional as any other company I've worked with.
They're a good bunch of people as well, which makes a difference. They have the interests of the franchisees at heart.
What are your highs and lows?
I can't recall there being any low points since I started in 2006. If you do lose an account, there's no point in dwelling on it - you just go out and get another one.
The high points have been when I've got another van. It's physical evidence that the business is expanding.
I also won a Start-Up Award with Revive! for franchisee of the year, and the Revive! Franchisee of the year for 2007.
What advice would you offer to others thinking of taking on a franchise?
Do plenty of research. You need to know exactly what you want to get out of a franchise, and work out what the market is capable of. Then talk to all the franchisors you're considering for at least half a day.
And don't be afraid. It could be the best move you ever made.
To find out more about Revive! franchise click below