Introducing Mark Kendall from Signs Express Southampton
Mark Kendall took over Signs Express Southampton as a franchise resale, for a career change. In two years he has almost doubled the turnover of the centre. We caught up with Mark to find out what inspired him to become a Signs Express franchisee and unearth his tips for running a successful business.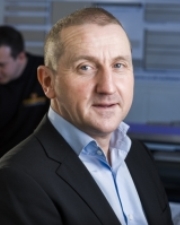 For 28 years I worked in aluminium stockholding; completely different to the world of signs and graphics that is my passion now. However working for myself had always been a personal goal explains Mark.
I relocated from Bristol to Southampton almost 30 years ago, aged 21, for a sales job in a small organisation, then went on to became a shareholder of a larger company. When that relationship ended I set up an aluminium stockholding business of my own. In 2007 that business was sold as a Management Buy Out.
So what motivated Mark to change career?
Selling my aluminium stockholding business was the catalyst for my career change. I had acquired a range of transferrable skills, like sales, marketing, people management, IT and so on; and my network of professional contacts in Southampton was really strong. I wanted a new challenge but still wanted to be my own boss.
What appealed to Mark about franchising?
I had never really considered franchising as I didn't know much about it, so went along to a franchise show to learn more. It was there I heard that the Signs Express franchisee in Southampton was looking to emigrate and so the business was for sale. As we talked, the possibilities of the signs industry became clear to me. I realised that my breadth of contacts were a ready-made potential client base. People from all walks of life need signs. By applying the same skills, I could sell signs in the same way that I had previously sold metal.
Mark explains how changing industries has worked for him:
My proven business management, sales and team leadership skills have laid the foundations for building a successful Signs Express centre; the team around me are the technical experts on the production side of things. Being part of a franchise provides peace of mind as support is always available on all aspects of running a business. As well as head office, the network of more than 70 franchisees provides plenty of first-hand experience to draw on.
In my view, the two most important skills for a franchisee to possess are, 1) being prepared to get in front of people to talk about your business and, 2) being good with people. My advice is, listen to people, let people manage themselves, make people feel important, and be reliable – direct these principles to both your customers and people within your team.
So what are Mark's goals for the future?
I am proud to have doubled the turnover of this centre within two years of having taken it on; though increasing business and becoming more profitable is always going to be a goal. I think Signs Express Southampton has built a reputation for excellence and quality. In ten years time I'd like to be in new larger premises, have a bigger team and see people around me who have helped build this business up taking on more prominent roles.
If you would like to find out more about Agency Express for yourself then don't delay and click below to request your FREE franchise information pack