Institute of Microtraining Franchise
Institute of Microtraining® Franchise
Professional Training and Development Business Opportunity

Empower businesses to educate their greatest asset: it's employees
Once upon a time, training as usual was good enough. But no more…
I want to help organisations redefine how they train employees to stop wasting time and ressources every day on trainings that don't actually work
I am interested in working close together with companies across various industries and improve their return on education
I would like to support them translating concerns into action, while seeing results from both the employee's and companies perpective
I am looking forward to deliver access to opportunity, rather than technology on it's own, helping organisations envision their future
If this is exactly why you wish to get up in the morning, make sure to become part of a leading provider of professional education and join the journey on transforming in-house training.
About the Institute of Microtraining® Franchise:
The Institute of Microtraining® stands for innovation in the space of professional learning and is considered a pioneer of innovative learning methods, by empowing businesses with consulting, content, technology and trainers to educate a company's greatest asset: it's employees.
The Institute of Microtraining® 's service portfolio positions around the most vital interest of clients: their scientifically proven learning methodology, which has been developed for more than seven years together with their scientific council. The micro-method® teaches in short learning units and helps organisations redefine how they train employees to become more productive in their working and learning environment.
Combining specialised skills of their consultants and training experts, the Institute of Microtraining® works with hundreds of leading companies and organisations across 6 countries. Not only to improve the way companies learn and manage their knowledge, but to create their future workforce.
The benefits for a Institute of Microtraining® Franchisee:
Share your wealth of knowledge, while YOU decide about your time management and work-life-balance
Your first step torwards a succesful start is the extensive foundational training: On 11 training days in total, over a period of 3 months (5+3+3), you will achieve the necessary know-how and skills for your activity as partner of Institute of Microtraining®
An essential part of your package is your welcome package, including a tablet, brochures and marketing to help you win clients
You receive a full complement of stationery tailored to your new Professional Training and Development Business
Get full on the job support and coaching from your start and throughout your long-term collaboration
Make use of the Microtraining IT
Benefit from administration and organisation of training through the head office in Innsbruck
Get access to the massive and growing content library of courses for your own education
Who works with the Institute of Microtraining?
Companies from across more than 30 industries are educating employees with the micro-method®. The clients in Europe include companies as Bahlsen, XING or even technical colleges.
"With microtraining we could set new impulses, which offered a fantastic entry to the world of digital learning."
Alexander Konecny; Bahlsen-Austria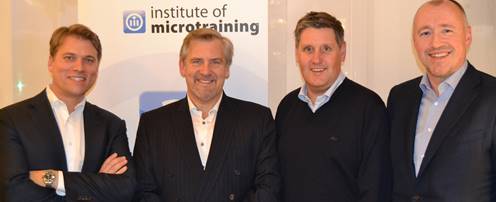 Dr. Arnd Halbach – Group CEO, Graham Roberts-Phelps – Training Director UK, Dieter Duftner – Chairman and Founder, Volker Homan – Head of Sales (DACH-Region)

Is the Institute of Microtraining® Franchise for you?
The Institute of Microtraining® are looking for ambitious, entrepreneurial executives within the UK, who understand the importance of training to businesses and looking to establish their own Professional Training and Development Business.
What counts is not particularly your CV, but your willingness to learn new things and become succesful with diligence and motivation.
If you want to share the wealth of experience you have received in your industry, you will have the opportunity to utilise your individual professional experience and expertise to build your Professional Training and Development Business.
The background of a prospective franchisee is likely to be an entrepreneurial individual who has been involved at an executive level possibly in sales and marketing or running or owning their own business.
What is important, though, is that you have the drive, enthusiasm and ambition to work with people and make them better. In both aspects, their working life and over all.
Find out more about the Institute of Microtraining® Franchise, the Professional Training and Development Business. Click the button below now!