Pro-actions Business Coaching Franchise
Features
Events
Videos
Resales
Pro-actions Franchise
Business Coaching Consultancy

The Pro-actions Franchise are a well-established SME coaching business growing rapidly across the South East and Midlands. They are focused, vibrant, good humoured, and absolutely committed to making a real difference to their clients.
Pro-actions will always make a positive difference to results for their clients and will only continue any engagement where they can add value. They reach their potential clients through collaboration with major high street banks, local authorities and professional partners.
Pro-actions also run their own extensive programme of free-to-attend events all focused on very topical elements of business that attract potential clients.
The Pro-actions Franchise Opportunity:
Pro-actions are looking for eight exceptional people in the south of England to help them on the next stage of their exciting journey towards becoming a wider franchise. They are looking for 'can do', 'hands on' people with a hunger to develop their own Business Coaching Consultancy within their framework – and, in doing so, help them develop the framework further.
In exchange, you will get the satisfaction of building your own business and helping them build a best in class coaching business for the SME sector. Joining at this important stage in their development will gain you entry at a hugely competitive 'grandfather' rate.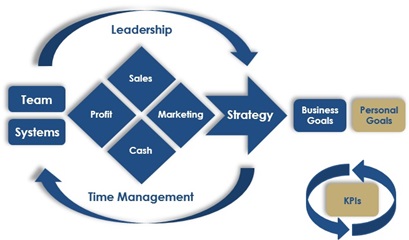 What does it look like on a day-to-day basis?
You will be working directly with your own portfolio of SME owners and will benefit from extensive initial and ongoing support from Pro-actions to establish and grow your business. Ideally you will have experience of coaching/consulting or possess broad business acumen and transferable skills that would help SME business owners and their businesses to grow and thrive.
Key day-to-day elements will entail:
Business development and local marketing activity including working with your regional associates to build networks among SME business owners and key introducers (banks, local authorities, professional bodies etc.)
Running Pro-actions Business Seminars to inform, educate, and ultimately acquire your prospect clients
Running Workshops for groups of SME business owners
1-2-1 coaching of SME business owners

Unrivalled initial and ongoing support for your business
You will receive extensive initial and ongoing support from Pro-actions including:
Induction, training, personalised development and business planning together with associated coaching and mentoring to help you achieve success in the role
Regular ongoing 1-2-1 engagement with your regional director whose role is to support you and ensure your success
Weekly touch points with your regional director and fellow local coaches
A defined and proven model to help you build networks, convert prospects, and deliver to clients
Centralised brand building, marketing and event co-ordination for you to leverage
Templates and intellectual property to support all of the above
Is Pro-actions Business Coaching Consultancy for you?

You will need strong skills in coaching and mentoring disciplines and will have excellent questioning and active listening skills.
You will enjoy developing new business and have solid business development skills. Sound presentation skills will also be required in order to use their approach, support and collateral to prospect for your clients.
Pro-actions will help ensure that, where any gaps are identified, you build firm working knowledge of and feel for the areas that are key to the successful running of a small business.
If you feel that you have a proactive, 'can do' attitude to improving businesses and yourself, and a passion for making things happen then please get in touch!
Find out more about the Pro-actions Franchise, the well established Business Coaching Consultancy. Click the button below now!