Surface Medic Franchise
News
Case Studies
Features
Events
Videos
Resales
Surface Medic Franchise
Repair & Restoration Business

The Surface Medic Franchise is a well-established Repair & Restoration Business. Surface Medic can repair and restore damage permanently at a cheaper price than a replacement service and with minimal disruption. Cracks, chips, scratches and all other imperfections can be restored and repaired on-site.
About Surface Medic:
Surface Medic is part of the Service Solutions Group who already manage over £50 Million worth of insurance claims each year which means they know this market better than anyone else you are likely to meet.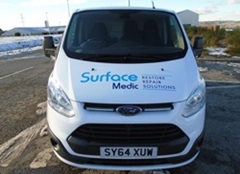 They are experiencing unprecedented demand from insurance companies who prefer to settle insurance claims by repairing rather than replacing damaged areas.
The techniques and materials Surface Medic use are easily taught and in great demand outside of the insurance industry too, literally every building from the smallest cottage to the largest hotel will be a potential customer of yours.
Surface repair was almost unheard of 5 years ago but this unique market sector is now readily accepted by insurers and consumers alike and growing extremely quickly.
The Surface Medic Franchise Opportunity:

As a franchisee you will manage your Repair & Restoration Business. This will involve dealing professionally with people from all backgrounds and at all levels.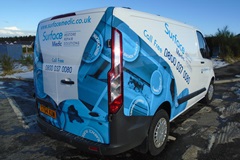 You will spend a large proportion of your time 'admin free' doing various repairs and liaising through the day with Head Office who will help to field your incoming calls and manage your online diary.
You could be repairing snagging lists on a building site in the morning and working in a private home in the afternoon.

Franchisees enjoy working with a variety of different clients, some commercial, some private, and each job will be different to the first which removes the repetitive nature of other repair based businesses.

This is an ultra low overhead business, working from a home base and with no set hours you'll be able to achieve that illusive work/life balance. In addition to your own local marketing, all of which is low cost or often no cost, all the leads that come through Service Solutions Head Office will be automatically passed on to you. You will also have your own exclusive territory which means you will be very much in charge of your own business working alongside your other franchise colleagues and not in competition with them.
Earning Potential: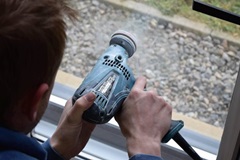 Franchisees should, before the end of their first year, be earning at least £40,000 and you can realistically aim for a six figure income potential in future years.
There is no limit to the number of vehicles or staff you can employ should you want to scale the business up.
There are also some lucrative additional services franchisees can offer to specific sectors like caravans and motorhomes which will give you additional bolt on options once your core business is up and running.
Training & Support:
Franchisees are provided with extensive training. Surface repairs take on many forms and some modules can be taught within a couple of days where as other modules may take a week. You can learn each module at your own pace whilst accompanying pilot franchisees on real life jobs. Bite size training, maybe several days at a time, or even a whole week add up to a month of practical training in the first half year of your new venture.
Surface Medic has a professional franchise team already in place and will support you in your territory on an ongoing basis.
The Investment:
This is a high performing franchise blueprint, backed by a substantial parent. The franchise fee is set at £22,500. This is a great opportunity to join a premier league franchisor and still have a very quick return on investment.
Join the Surface Medic Franchise in the booming surface restoration market and make 2016 your best year yet. Click the button below now!