Local Appliance Rentals Franchise
Features
Events
Videos
Resales
Local Appliance Rentals Franchise
Rental Business

Why wait when you can rent it today?
Local Appliance Rentals (LAR) are the obvious first choice experts in consumer hire, renting anything and everything from TVs, electronics, furniture, white goods to gaming and bedding over 24 months. You name it, they rent i with small weekly affordable payments. Everyone wins and that makes a great Rental Business.
The Local Appliance Rentals Franchise Opportunity:
9 years old with over 140 franchisees in only 5 years of franchising. The UK boasts 30+ franchisees operational in under 2 years with many more joining in 2016!!
One top performing UK franchisee has already achieved a £500k gross profit on an accrual basis in their first 12 months of operation. Many others are not too far behind.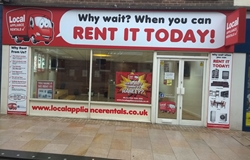 To become a Local Appliance Rentals Franchise you require commitment and LAR are selective in choosing the right applicants. However the rewards are there for anyone who is looking to partner and has an appetite for hard work and success, with the rewards to pay dividends in the not too distant future.
You need to give your Local Appliance Rentals Franchise 2 years' growth and then you will have an amazing business.
LAR is a dynamic niche franchise who are a highly successful group and are notably proven. This complete package includes initial training on all aspects within the business model and more importantly permanent, genuine on the ground support on a daily basis from support staff of 10+.

Training & Support:
In terms of the support infrastructure provided, LAR is comprehensive. Rental payments from customers are centralised with daily reporting provided.
Franchisees are reconciled and paid weekly from all rental receipts.
LAR partner with Experian and have merchant banking partnerships in place with Adelante and AIB. LAR is fully regulated and provides a full consumer credit licence with approved franchisees acting as appointed representatives.
Those fortunate enough to be selected will then be trained and audited throughout their licence agreement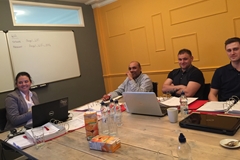 LAR UK has over 2000+ customers already with a presence now in Wales, Scotland, Northern Ireland and England. This is a relationships business. 'Know your customer' is the ethos.
Demand is massive, to the point where Head Office will even supply unlimited finance to franchisees post their first 50 contracts for approved applicants.

Territories are exclusive and there are many quality territories still available, although they are snapped up at an impressive pace, enhancing LAR's brand recognition quickly.
There is a professional marketing team with permanent web and software developers involved daily. Compliance, procedures and policy personnel support all franchisees along with a team of excellent management and directors.
The business is highly scalable and provides the benefit of ongoing revenue and a highly valuable asset or 'rental book' which provides for an attractive exit strategy at whichever point the individual franchisee chooses.

Joint ventures are also welcome and can be assisted and supported by Head Office. LAR have put together 25+ joint ventures already, so are well experienced here. Whether you are the 100% owner operator, a couple, or investors who may be looking for another interest but don't have the time to sign up customers daily, this offering can be tailored to suit you. Either way, this business actually works and LAR are looking for energetic partners.
Local Appliance Rentals welcome all expressions of interest, so why wait? Enquire Today!
Find out more about the Local Appliance Rentals Franchise, the UK's most successful Rental Business. Click the button below now!