Eazi Apps Licence
Eazi-Apps Licence Opportunity
Mobile App Business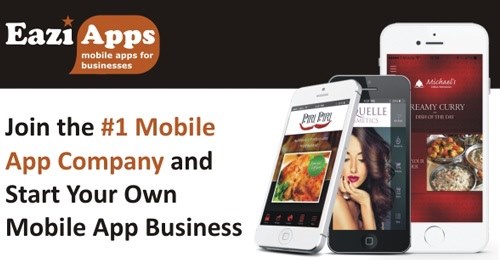 You can generate a serious repeat income building mobile apps for local businesses without any technical experience!
Worldwide smartphone sales increased by 14% last year, and over 100 billion mobile apps have been downloaded from the app stores. This is your chance to profit from the mobile revolution and launch a successful Mobile App Business.
The Eazi-Apps Licence Opportunity:

Take advantage of the Eazi-Apps' powerful 'drag and drop' development platform and generate a serious recurring income without any technical experience. Starting your own business couldn't be simpler with their 2 day training course, dedicated business mentoring, and a comprehensive marketing launch pack. With ground breaking technology and ongoing support you can build a profitable business in a huge growth market.
"63% of smartphone users like using a business's mobile app to purchase a company's product or service, with UK retailers missing out on sales of £6.6 billion per year by not going mobile." - Econsultancy
Why Eazi-Apps?

Low set up costs
Work where and when you want
No technical or design experience required
Huge market with massive earning potential
Profitable business with residual income.
All you need is a computer, a smartphone and your energy
The Turnkey Package
Professional Training - Kick-start your business with 2 days training at the University of Leicester or via our on-line classroom.
Generate Serious Recurring Income - Generate a repeat income in a huge growth market with no geographical limitations.

Eazi-Apps do the Heavy Lifting - Leverage our their industry credibility, client testimonials, example apps, and approved Android and iOS developer status.

Advanced Technology - Create beautiful apps for local business with innovative features without any technical experience.

Dedicated Support - Benefit from professional support, their new dedicated partner mentoring program and on-line video tutorials.

Marketing Collateral - Access professionally designed library of stunning marketing materials and lead generation website.

Partner Mentoring Scheme
Launch your Mobile App Business with the help of a successful Eazi-Apps network member
As part of their ongoing commitment to the success of their global network, Eazi-Apps are proud to announce the launch of their new 6 week, one-to-one 'Partner Mentoring Program'.
After completing your 2 day training program, you can schedule in business mentoring with an established Eazi-Apps partner. From creating your first app to attending your first client meeting, they are there to help your business grow!

What do the Eazi-Apps Licensees Say?

"I have been looking for a way into the app industry for 12 months. I chose Eazi-Apps because they are an established company that shared my enthusiasm and vision.
I already have lots of clients with live apps published in the app stores and I have a steady pipeline of new customers." - T. Smith - Eazi-Apps Licensee
Find out more about the Eazi-Apps Licence opportunity, the successful Mobile App Business. Click the button below now!