The ZipYard Franchise
Features
Events
Videos
Resales
The ZipYard Franchise
Garment Repair Business

The ZipYard is the UK's premier
Garment Repair Business
The ZipYard business model has been created, tested and developed to ensure you have the very best opportunity to be successful in the shortest period of time. Your investment delivers a fully operational and fully supported business, with trained staff and comprehensive marketing from day one – plus! All ZipYard centres are finished to a distinctive specification – customer friendly, highly branded and very visible.
Experience to date suggests that a unit of 600 to 750sq.ft. is the ideal size for a ZipYard Centre – where the initial fit out will include:
Industrial sewing machines
Blind hemmer
Over locker
Button holer
Ironing station
Electronic point of sale system
Bespoke till and software package
Computer
Shop fit out - external and internal signage/fitting room/counters/flooring/fixtures and fittings
Opening starting stock
Corporate branding
The ZipYard Franchise Package:
Licence to trade
Training in the know how and operation of the business
Comprehensive marketing launch programme
Merchandising of the centre
Extensive marketing collateral
The ZipYard internet
Services of an experienced shop fitting team to customise your premises into a ZipYard business
Equipment, merchandise and furniture necessary for the business
Operating manuals
Access to The ZipYard intranet
Hardware and software for sales, pricing and accounts reports – with technical support
Marketing plan and comprehensive range of marketing collateral
Staff recruitment
Support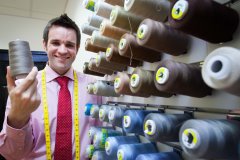 It is you who makes the major decisions in your Garment Repair Business, but you are not on your own as The ZipYard are always on hand with help and advice, marketing support, on-going training, product development and much more.
The ZipYard have Network Meetings throughout the year, they share best practice and they are regularly adding new marketing collateral to the 'bank'.
Their management have over 70 years combined experience in franchising and are specialists in their business fields.
Training
All franchise owners undergo a two week comprehensive induction programme, covering business practices, computer systems, running a centre, marketing and promotions, recruitment, counter sales etc. Training is part classroom based (at Head Office) and part in-centre – for true hands on experience.
What's the total cost?
There is a one of licence cost of £15,000 and a training and project management fee of £5,000 which includes two weeks training, assistance with staff recruitment, project management of the shop fit and your marketing launch programme.
£18,500 covers all your equipment, the computer system, pre-start merchandising, marketing collateral and opening stock.
Total cost is approximately £38,500 + shop fit + VAT*
*Major banks can fund up to 70%- dependent upon your financial history.
Your return on a The ZipYard Franchise: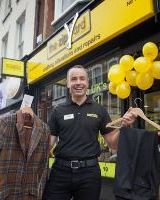 You are partnering with a successful company with a proven business model in a growing sector. You will enjoy being your own boss yet you will have all the support of The ZipYard Management Team.
You do not need to have a background in the garment alterations industry as full training will be provided. Furthermore, The ZipYard will assist with finding the right premises in the best location, and recruiting and training staff.
Their business ethos is based on the principles of excellent and responsive customer service, speedy turn around, quality materials and staff loyalty augmented by efficient and proven business systems, marketing and promotional collateral and on-going in-centre support from the whole ZipYard team.
Who are The ZipYard looking for?
The ZipYard would expect a new franchise owner to at least meet – if not surpass – their benchmark of £100,000 turnover in their first year.
They look for franchise owners who will be as dedicated, passionate, focused and hard working as they are. You do not need to be familiar with repairs or alterations and they are not looking for tailors, dress makers or seamstresses – but rather business owners.

Successful franchise owners will be ambitious to run their own Garment Repair Business, customer driven, well organised and keen to follow a proven business system.
Find out more aboutThe ZipYard Franchise, the leading Garment Repair Business. Click the button below now!