MACC UK
MACC Franchise
Building Suppliers Business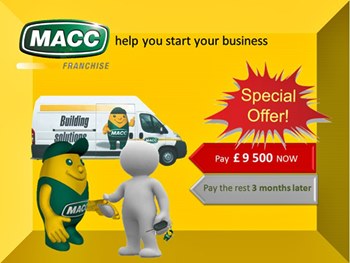 About the MACC Franchise:
MACC is a French family owned business, with a turnover of 40 million Pounds and 200 employees in Europe. For more than 50 years, the company has developed the concept around innovation and direct sale which have made the business today a success.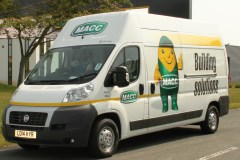 MACC are not new to the UK market having successfully operated two company vehicles in the East Midlands and South East for 10 years. They have decided the time is now right to launch their franchise model for this successful Building Suppliers Business in the UK.
MACC's unique products can be seen on most European building sites. They are known as a company with strong values, selling innovative, robust and useful products because they have been designed and manufactured with the craftsmen themselves in mind.
The idea for any new product comes directly from the specific needs of their customers, throughout marketing studies carried out on sites. The products created by their Research and Development Department are patented and manufactured in France following the precise requirements. They are always checked in order to produce the best quality and value for their customers.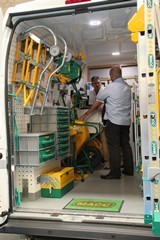 MACC's branded products are sold only by their sales representatives (more than a 100 in Europe), with a van specially fitted out for demonstration purposes. They visit tradesmen of the building trade once a year using the MACC system to manage and update their customers database and provide them with the best advice, products and services.
The market for MACC products is predominantly the building sector, which has proven to be solid and reliable over the years with 1,000,000 potential customers in Europe and 190,000 in the UK only. The product range they can offer to their customers (builders, electricians, roofers, joiners…) is extensive and the quality is second to none.

MACC has an enviable track record in its marketplace and will continue to invest in product development and research in order to always meet and exceed the latest tradesmen's requirements; every year new products are added to the range.
The franchise benefits:
Initial training - MACC sales people benefit from excellent induction training at the Head Office in France to start with, and they are led to success by one to one support in the field later on
A wide range of innovative products
The MACC operating system - The on-board computer and software system IRIS allows managing appointments, sales, after sales service and help monitor how you and the business perform - the database is refreshed monthly
The invoicing process is done automatically and access to a web portal is provided in order for the franchisees to track the information they need. That way you can concentrate on your job: selling and making money
Ongoing support
No stock to pay for
Above all, you will be part of a modern company with a bright future.
No previous experience in sales or the building sector is necessary; MACC people come from all walks of life.

MACC teaches you everything you need to be successful.

In return they will ask you to give your undivided attention to the business and be totally committed to delivering the very highest standards of service to every MACC customer.
The MACC Franchise Investment:
Franchisees will need £20,000 to invest and should see a good return in their first year.
Find out more about the MACC Franchise, the successful Building Suppliers Business. Click the button below now!