Jasper's Catering Franchise
News
Features
Events
Resales
Jasper's Franchise
Catering Management Business

If you're looking for THE food franchise, then Jasper's is it!
Jasper's is a unique food franchise for those who love food, great service and people! Providing hot and cold catering for business meetings, lunches, training courses, conferences and events along with exciting catering solutions for individuals.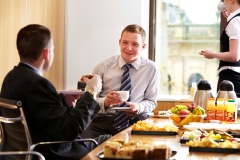 Jasper's provide catering for some of the biggest companies in the UK including Lloyds TSB, NHS and BSKYB. They have thousands of clients who need Jasper's services today.
If you're reading this, you've already started taking the first crucial steps into taking control of your life and becoming a successful business owner. Fate has pulled you in this direction and has led you to this exact point, at this exact moment in time.
So what happens next?
Well, that depends on where you want to head at this crossroad you find yourself at.
Do you want to continue on the path of your current job and lifestyle OR do you want a life with more freedom, more money and in which your dreams of success are realised?
If you crave the freedom and authority of being your own boss, want to be a real business owner, create a valuable asset for yourself and your loved ones - something that you are excited to get up to in the morning for, something where every day is different and where, with your hard work, you could earn in excess of six figures within the next three years - then you should request a FREE Information pack now!
The benefits
As a Jasper's Catering Franchise owner you will benefit from the following:
You will have everything you need to build your own catering empire
You will receive £30,000 worth of free stock (at sale value) in your first four months of trading (this effectively pays your franchise fee)
You will have your own exclusively mapped territory
You won't pay any Management Service Fees for the first nine months
You will operate from commercial business units – no high street rents and rates (up to 60% lower rent and rates than a high street unit, saving you literally £10,000's a year)
Unlike a retail franchise, you aren't reliant on passing trade – meaning you can proactively go to your customers (you set the limits!)
In year one, Jasper's guarantees to book £1,000,000 worth of prospective business appointments for you. Yes, that means your diary will be full of confirmed, validated potential customers who want to meet you and need a caterer!
You will receive the unique Business Management System which is your tool to managing your franchise
The innovative sales and marketing processes are all systemized. You just need to follow them (ground-breaking, but easy and fun – just wait until you see it!)
Nobody in the marketplace can compete with Jasper's range of products and services
The Investment:

To become a Jasper's Franchisee the Franchise Fee is £29,997 (+VAT) together with set up costs of £62,417 (+VAT) and working capital of £25,000 (this amount varies depending on your own needs).
Is Jasper's right for you?

This unique food franchise opportunity isn't available to just anyone. Jasper's need the right kind of people with the right skills:

disciplined
hardworking
ambitious
positive
open minded
Jasper's seeks individuals (or couples) who want to learn and thrive. If you have the skills then Jasper's want to hear from you. This business is run by open down to earth, hardworking ethical people who are passionate about the success of Jasper's and those who join their network.
This is a unique franchise opportunity. Jasper's systems, technology and exciting products provide the right people with THE most forward thinking food franchise opportunity in the UK!
For more information about the Jasper's Franchise, the UK's largest and most successful Catering Management Business. Click the button below now!