Boogie Beat Franchise
Features
Events
Videos
Resales
Boogie Beat Franchise
Children's Music and Movement Business
The opportunity to run a children's franchise with classes and nursery/playgroup workshops in your area
The Boogie Beat Franchise is a Children's Music and Movement Business. Established in May 2000, Boogie Beat runs active and lively music and movement classes for children from the age of six months up to five years.
The Boogie Beat Franchise Opportunity:
As a franchise owner you will run workshops in Schools, Pre-schools, Nurseries, Childminders and Toddler Groups. The sessions incorporate traditional stories and dance themes which help children to develop confidence, co-ordination and social skills whilst they learn to express themselves, with their unique music and dance – it's great fun!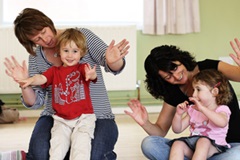 The sessions also cover many curricular topics and themes, which may also be advantageous with Ofsted.
The sessions can also help children with special needs. The children grow in all areas, to see them smile, relax and enjoy themselves is so important. Introducing them to music and dance is a way of reaching their different needs in such a fun and very exciting way!
Training & Support:
As well an initial training programme to get your Children's Music and Movement Business up and running, you will also receive ongoing training to ensure that you are always up to date with changes in the business environment.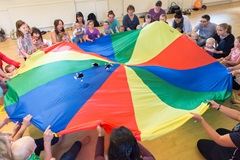 You will also receive support in the form of an intranet package which is a great communication link between franchisor and franchisee.
You will have the facility to download files, business manuals, stationery, forms, and marketing materials – basically everything you need for your Children's Music and Movement Business.
Continuous support will always be available from Boogie Beat Music & Movement founders Nicky and Lisa who will work closely with you to help you get up and running during the early stages of setting up your business and into the future!
The Boogie Beat Franchise Package:
2 day initial training based at HO and ongoing topic
and business training
A fully comprehensive manual containing all lesson
plans with dance themes and business set up
Boogie Beat Music & Movement music
(classical, traditional, contemporary)
Boogie Beat Music & Movement illustrations
All props including puppets, parachute, bean bags, scarves etc.
All instruments
Trademark licence/established brand and proven business strategy
Website with your own contact page
Intranet package
Extra earning potential with the Boogie Beat Music & Movement party package
Exclusive and substantial area for each franchisee
Is the Boogie Beat Franchise for you?

Boogie Beat are looking for energetic, confident, self-motivated and business minded people who want to run their own franchise. You do not need to be qualified in dance or music as all training will be given.
Find out more about the Boogie Beat Franchise, the lively Children's Music and Movement Business. Click the button below now!