Mail Boxes Etc. Franchise
Features
Events
Videos
Resales
Mail Boxes Etc. Franchise
Print, Post and Delivery Business

Become a Global Leader
Mail Boxes Etc. is one of the world's largest non-food retail franchises. It has over 1,500 stores in five continents including over 150 in the UK and Ireland. They are the only high-street chain that offers consumers and local companies a truly comprehensive range of business services.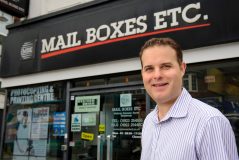 Mail Boxes Etc.'s high street, one-stop-shop concept offers a mix of logistics, postal, print and copy services to help meet people's everyday needs. The franchise opportunity gives you the chance to open and build a successful and profitable business.
This business is a trusted high-street brand and you will be supported by a large team of experts and, of course, the rest of your franchise network. You don't have to have specialised in any of the services before because they offer you full training and support to bring you up to speed in a short space of time.
The Mail Boxes Etc. Franchise Package:
In order to open a Mail Boxes Etc. store you will need to make an initial, up-front investment of around £60,000. With up to 70% of this being funded by a high-street bank, the initial personal investment will be around £20,000.
As a Mail Boxes Etc. franchise owner you will benefit from:

An established, growing network with a proven system
A comprehensive start-up and initial training
Continual operational and business development support
Multiple revenue streams
This is the only business to offer worldwide pack & ship, digital print & copy, mailbox rental and business services all under one roof.
As a successful global brand, Mail Boxes Etc. have learned what it takes to keep ahead in the retail sector and they are sharing this knowledge with each and every one of their franchise owners. With multiple revenue streams, franchise owners benefit from minimal impact during market fluctuations. They benefit from a trusted high-street brand that has dominated its marketplace for 35 years and their longest-serving franchise owner in their network has just celebrated 21 years!
Supporting You To Be Successful
When you join Mail Boxes Etc., not only do you align yourself with a globally successful business concept and established brand, you also benefit from a proven business model with a comprehensive induction and training system from day one.
The head office, local area franchise owner and operations team will ensure that you will get all the help and back-up you need to set your Print, Post and Delivery Business on the road to success.
The Support Package:
Pre-opening, site location and lease negotiation – they will help you find the right location for your new Mail Boxes Etc. store and negotiate favourable lease terms
Finance assistance and business planning – they will advise on the financial undertaking required to get your Print, Post and Delivery Business off the ground, help with introductions to the leading high-street banks for start-up funding and provide templates for business modelling
Area operational support – the experienced area franchise owner and operations team will be there to ensure you have all the help and guidance you need
Training – the comprehensive training programme covers every aspect of the business in a combination of in-depth seminars and lectures coupled with hands-on training in-store
National marketing support – the head office team masterminds a mix of traditional and new media marketing activities designed to drive customers to your store and increase sales, supported by a range of promotional materials that you can use for local campaigns
Mail Boxes Etc.'s experience and expertise in bespoke packing and shipping is unrivalled. They assist key clients such as world-renowned auction house Sotheby's and, working together with Nike, they assisted in increasing their in-store sales of Nike id by 80% through offering a click, design and ship service worldwide.
Mail Boxes Etc. are full members of the British Franchise Association, promoting ethical franchising and they are the only national network of full service Pack & Ship stores approved by UPS, Parcelforce Worldwide and FedEx.

Is A Mail Boxes Etc. Franchise For You?
Mail Box Etc.'s franchise owners come from all walks of life and a range of professional backgrounds. However, they are all independent, committed, positive-minded people who want to make a success of their Print, Post and Delivery Business. They enjoy the variety of the business and the way it fits into their lives. So, whatever your previous experience, they will give you all the training, set-up support and ongoing back-up you need to get your business going and make a success of it.
Find out more about the Mail Boxes Etc. Franchise, the market leading Print, Post and Delivery Business. Click the button below now!..