Bright and Beautiful Franchise
Bright and Beautiful Franchise
Ethical Domestic Cleaning Business

The Bright and Beautiful Franchise is a profitable, flexible and Ethical Domestic Cleaning Business for contemporary, professional women.
Work smart with a high income potential from a small select group of clients.
The Bright and Beautiful Franchise provides a new and improved concept in domestic cleaning with exceptional client service and attention to detail. Bright and Beautiful has unique marketing techniques, combined with the latest web-based management software plus an ethical and eco-friendly philosophy.

The domestic cleaning industry is growing despite the recession mainly due to the increase in women in the workplace.
Professional working women now view the services of a domestic cleaner as critical for the smooth running of their home and family.
However, trust and quality are of the utmost importance and the Bright and Beautiful Franchise are leading the way with their ethical practices.
If you are looking for a professional, people-oriented Ethical Domestic Cleaning Business with a great return on investment and a flexible working life then read on.
Company History
Bright & Beautiful was established by Rachel Ray in 2007. Rachel says "As I researched the market it was clear that there was a huge gap for a trusted, professional company offering top quality service.The whole domestic cleaning industry seemed very outdated and amateur with many clients having bad experiences from casual cleaning arrangements, agencies or other companies. We set about creating a company with a 21st century approach that has radically improved the experience of clients and of team members".

The concept soon proved to be so popular that Rachel decided to leave her career as an accountant and business consultant and run the business part-time around her family.
The business grew so well that Rachel decided to look for like-minded people who would like to share in the Bright & Beautiful domestic cleaning vision through franchising.
Bright & Beautiful are winners of Outstanding Entrepreneur 2016 in the Northern Power Women Awards, Winner of Overall Top Franchise Award 2016 with Workingmums, winner of the Best Business and Best Franchisor categories in the prestigious 2016 Best Business Women Awards.
The Role of a Franchise Owner:
Imagine coming home after a busy day, the house is immaculate, not just clean, but the beds are made like a hotel, the lounge looks and smells inviting. All your shirts and clothes are pressed and hanging in your wardrobe. You have opportunity to unwind or spend time with your family in a clean and ordered environment.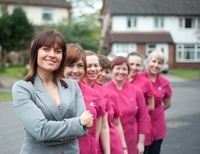 That's the service that franchise owners and their clients enjoy every week! You do not need to clean or iron yourself, but you do need an eye for detail and a passion for excellent service.
A franchise owner would focus on building a client base of professional women (and some men!), people who need the Bright and Beautiful Ethical Domestic Cleaning Business services to manage their home. This business can be expected to provide a substantial income while fitting around family life.
Bright and Beautiful Franchise: Package Overview
The Bright & Beautiful Ethical Domestic Cleaning Business start-up package contains everything you need to successfully launch your business - from equipment and uniforms right through to local advertising and much more! Plus, full funding is available for suitable applicants.

Profile of a Franchise Owner: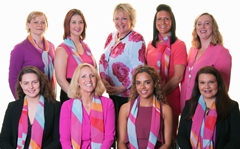 The Bright and Beautiful Franchise put a high value on developing people. They are looking for those who have an ethical approach, a positive attitude and the determination to make this Ethical Domestic Cleaning Business a success.
To run a Bright and Beautiful Business, you need to be a "people person" with good empathy towards clients and team. Experience in management, training, sales or marketing would be an asset, but not a necessity, as the Bright and Beautiful have comprehensive training and strive to make sure that every base is covered.
Testimonials

"I chose Bright & Beautiful because they are ethical and I wanted to run a business from home. It feels great to know that I am providing my clients with a high level and professional service and I am able to employ local people and give them a career path as well as a happy working environment."
Sue Marks


"I would recommend Bright & Beautiful to any Mum wanting to get back in to work. The income is enough to support my family and we are growing fast due to popular demand and word of mouth from lots of happy clients! My quality of life is excellent; I can run my own business with lots of dedication but a certain amount of ease!"
Faye McDonough Owner of Altrincham, Hale, Sale & Surrounds
Find out more about the Bright and Beautiful Franchise, the leading Ethical Domestic Cleaning Business. Click the button below now!
Other Key Factors:

· Winner of the UK's Best Mid-priced Franchise Award in 2014, 2015 and 2016, sponsored by RBS
· Winners of the Five Star Franchisee Satisfaction Award, four years running