Agency Express Franchise
Features
Events
Videos
Resales
Agency Express Franchise
Estate Agents Sign Business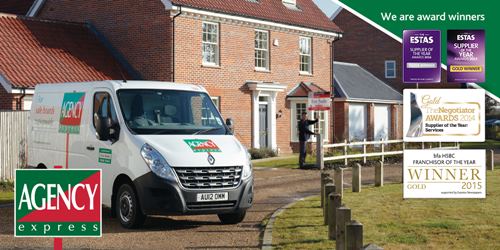 The Agency Express Franchise is the UK's largest and only national 'For Sale' board company
This multi award winning company was established in 1998 to offer a nationwide professional board service to both corporate and independent estate agencies. Today, Agency Express works for over 45% of all estate agency offices in the UK and currently conducts over 100,000 property visits per month. They have a network of over 112 franchisees. The company also has franchisees in Ireland and further overseas expansion is planned.
10 Reasons to Choose the Agency Express Franchise:
A van based business with low overheads
100% daily repeat business
No national competitor
Family friendly working hours
Simple to operate
Centralised invoicing and payment system
Minimal paperwork
Accredited by both the British and Irish Franchise Associations
Existing national accounts
Low start-up costs
The Franchise Package
The unique franchise package requires an investment of £21,500 plus fully claimable VAT and has been carefully designed to get your Estate Agents Sign Business up & running straight away.
As a franchise owner you will receive:
A territory licence: A 10-year renewable franchise agreement to trade under the fully protected Agency Express identity (European Trademarked) within your own exclusive territory
A fully sign-written van: The deposit paid on a new Renault Master van, supplied complete with Agency Express graphics, removable racking and satellite navigation system
Specialist tools and equipment
Corporate clothing
Stationery and marketing materials

Public liability insurance: The premium paid on your first 12 months' public liability cover (£5,000,000)
Launch and on-going support: Pre and post-launch support comprising initial territory research, customer database creation and weekly mailshot campaigns
Ongoing Support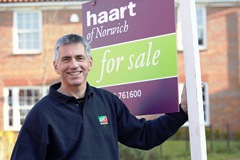 The Agency Express Head Office offers a large dedicated support team to provide back up and support to the franchisee network so assistance and advice is only ever a telephone call away.
Furthermore their unique SignMaster3 on-line board ordering system supports you by reducing your administration to a minimum and their Centralised Accounts Department takes care of all invoicing for you.

Earning Potential
Each franchise territory is carefully designed to give you the maximum reward for your efforts and to enable you to put additional vehicles and employees on the road as your Estate Agents Sign Business expands. Ultimately, your earnings are determined by your own ambition and there is no upper limit!
Agency Express top franchisees turned over in excess of £160,000, with many others exceeding £100,000 but an established single vehicle operation should turnover in the region of £65,000 which, after expenditure should provide a net profit of approximately £45,000.
Final words from Agency Express Franchisees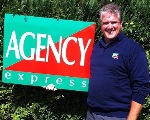 "I was filled with confidence from the professional way my enquiries where dealt with by the Agency Express Team. The strength of the franchise package, the impressive growth of the business in the last 12 years and the fact that the model clearly works, 107 franchisees proves that.
I also received fantastic feedback when speaking to other franchisees about their experiences. That gave me the confidence to proceed." Martin Shuker Agency Express (Lancaster)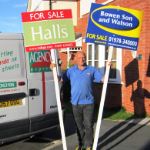 "I felt confident in the early days of starting my franchise.
The Agency Express training and support programme gave me the kick start I needed in getting out there and getting active." Phil Harrington Agency Express Franchisee (Shropshire)

Awards and Affiliations

Find out more about the Agency Express Franchise, the leading UK Estate Agents Sign Business. Click the button now!