Catch-A-Balls Franchise
The nursery environment is great for a sports activity
2nd February 2016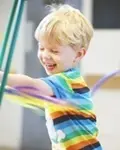 Catch-A-Balls and Rainbows nursery in Richmond have been working together for 3 years. The nursery environment is great for a sports activity; it gets all the children moving.
There are about 15-20 children in each session, they are often divided by age, but not always as it can be beneficial for the younger children to see the older ones doing an activity or even helping them stand in lines and taking turns.
Structure
Within a Catch-A-Balls session the aim is to help children understand the benefits of doing activities. So there is always a warm up to get their muscles working. It's also a good opportunity to get everyone involved, up and moving. Usually they will play a simple game such as their bean game, so they see what kind of beans they can be, jumping beans, French beans, baked beans and so on. Otherwise they do some individual hand eye co-ordination by practicing handling/balancing with scarves or bean bags.
During the session Catch-A-Balls will focus on a particular skill. That can be a throw suggest as overhead, under arm or over arm throw. They have devised techniques that will encourage the children to do the correct movement. For instance if they are practicing an under arm throw, they use their tick tock arms, point with their other hand to show the ball where they want it to go, and throw with their hands going past their knees.
They will practice their skill then have a challenge. This will vary depending on the age group. The younger children may just have to throw a ball or bean bag through a hoop, maybe varying the height or distance of the throw. For the older children, generally over 3s, there is a game to play. A small sided game that will use the particular throw that is being practiced.
Finally they will have a cool down. The aim is to focus the children again and do something calming before going back to the nursery environment. This can be something as simple as asking them to work with a partner and put their hands together, then their elbows or toes. Or it can be an individual challenge which makes them explore how their body moves.
Aims
Increasingly the value of an active lifestyle is becoming understood. In order to enjoy sports and fitness it is very important to give children the tools with which to do it.
Rainbow benefit immediately by having children who have enjoyed 30-35 minutes of constructive physical activity. Additionally they have picked up a few ideas that can fill a few minutes during the rest of the week.
Another benefit is also see how the children behave in different environments. For many children getting up and moving suits their learning method better.
To find out more about the Catch-A-Balls franchise just click below to request your FREE franchise information pack

Catch-A-Balls Franchise News