The ZipYard Franchise
Features
Events
Videos
Resales
The ZipYard Bedford Wins National Award for Second Year Running
8th November 2016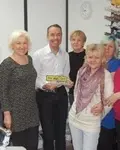 Graeme Mulheron owner of the ZipYard with some of his award winning team
Graeme Mulheron, owner of The ZipYard on the High Street Bedford, has won a national business award for the second year running, recognising the success of his clothing alterations and tailoring centre.
The ZipYard Bedford beat off competition from all other ZipYard centres throughout the UK once again to be named the Centre of the Year 2016 at a gala dinner held at the Daventry Court Hotel in the Midlands. The company retains the title it was awarded last year for achieving the highest level of sales.
Graeme said:
"Our business continues to go from strength to strength and I am delighted that we are the ZipYard Centre of the year again. We have built up a reputation for delivering top quality work and a very high standard of service and people just enjoy bringing their alterations and repairs into us.
Without the hard work and commitment of our seamstresses we couldn't have won this award so I'd like to say a big thank you to them and our loyal customers who have helped the ZipYard Bedford become so successful."
The award-winning garment alterations centre opened in Bedford three years ago. Today the business has over 13,000 customers and has almost doubled its turnover in the past 12-months. The ZipYard will again be teaming up with the Prebend Day Centre to help the homeless in Bedford this winter.
Customer service is the key to The ZipYard's ongoing success. Graeme and his team go out of their way to help customers wherever they can.
Graeme explains:
"It's often a crisis that first brought our most loyal customers to us. From bridesmaids' zips jamming during the wedding day to seams going in skirts or trousers whilst shopping, we've seen it all. A hem that comes down during a busy office day or a button that pops off is just a two-minute job for our skilled seamstresses to carry out free of charge, but to the customer we're a total lifesaver giving customer service they will never forget and often talk about.
Unusual items are no problem for us. We've made graduation gowns and hats for assistance dogs to match their owner's gowns for their big day and even made a bespoke coat for a small terrier dog who was feeling the winter chill following a severe haircut. Our seamstresses receive many cards, positive reviews, cakes and chocolates from grateful customers."
If you would like to find out more about The ZipYard franchise just click below to request your FREE franchise information pack