Papa John's Franchise
Features
Events
Videos
Resales
Papa Johnís Teams-up with Save the Children to Raise Money this Christmas
16th December 2016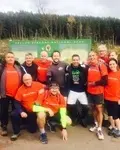 Leading pizza franchise, Papa John's, has announced it teamed-up with Save the Children again this year to raise funds for children around the world. Papa John's is committed to donating £250,000 in total to support Save the Children's Christmas Jumper Day.
This year Save the Children's annual Christmas Jumper Day will be sweeping the nation on 16 December as schools, homes and businesses across the country will be ditching their day-to-day dress for a Christmas Jumper as Seriously Silly as they dare and making a £2 donation to Save the Children.
For a second year running Papa John's Pizza is supporting Save the Children and from 21 November 2016 to 2 January 2017 will #dough-nate™ 50p to Save the Children for every XXL pizza sold.
Money raised could give a child living in a refugee camp clothes to keep them warm through winter, help buy nutritious food for their entire family, or set up a safe space to give children the chance to be children again.
As the flagship partner of Save the Children's Christmas Jumper Day Papa John's staff will be involved in various activities to support this year's campaign. The Papa John's office team will be wearing festive woolly Christmas jumpers and donating to help the charity do whatever it takes to make sure the world's forgotten children get the chance to have a brighter future.
Some of the other fundraising initiatives include:
Cycling to Paris from the Papa John's office (it's only a casual 350 miles!)
Breaking up into individual groups in the office to aim to raise £2,200 per team
Travelling the UK, visiting Manchester, Edinburgh, Bristol and London to recreate the nation's favourite pizza using jumpers
Staff have also recently completed a sponsored walk to the top of Southern Britain's highest mountain, Pen y Fan, which has resulted in raising just under £3,000.
Papa John's is also holding a jumper amnesty where members of the public can get involved too. Once you've chosen your favourite jumper to wear on Christmas Jumper Day, if you have any old jumpers you don't need, bring them to us at one of our Christmas Jumper Day Tour locations and we'll pass them on to Save the Children to sell in their charity shops to raise even more money.
Online customers have also been invited to round up pennies at the checkout to the nearest pound and the amount added will be donated.
Find out more about the Papa John's franchise by clicking below to request your FREE franchise information pack

Papa John's Franchise News