Papa John's Franchise
Features
Events
Videos
Resales
Papa Johnís Tops Record for Store Openings
1st March 2016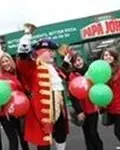 Leading pizza franchise, Papa John's, has announced it has topped its record for new UK store openings last year.

The increasingly popular 'Better Ingredients, Better Pizza' concept encouraged both existing and new franchisees to taste success in 2015 with a record of 44 new store openings across the UK.
Anthony Round, Papa John's Business Development Manager, confirms:
"We now have well over 300 Papa John's outlets in England, Scotland and Wales. New franchisees are hungry to join our growing business and existing franchisees have opened additional outlets. Our special incentive packages which offer deals on equipment, royalties and marketing, support franchisees in the early stages of set up, plus we added TV advertising to our promotional mix which has proved a particularly compelling ingredient, attracting even more customers into our stores.
"As we continue to expand we are looking at recruiting more new franchisees. To join Papa John's as a franchisee, no experience is necessary as we provide all the necessary training, help with location selection and full turnkey solution to opening the store. However, Papa John's franchisees need to be motivated, enthusiastic, hard-working and want to be part of a growing team. Good interpersonal and people skills are essential, as franchisees deal with customers as well as lead a team on a daily basis."
Papa John's, was recently named as the UK National Pizza Delivery Chain of the Year. Papa John's has won this award six times in the last eleven years and is renowned for its product quality.
For further information about Papa John's franchise opportunities just click below to request your FREE franchise information pack

Papa John's Franchise News