Papa John's Franchise
Features
Events
Videos
Resales
Papa Johnís is New in Crewe
22nd January 2016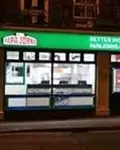 Leading pizza franchise, Papa John's, has announced it is now new in Crewe!

The Crewe store takes the number of Papa John's which opened last month into 'double digits' and the number of UK outlets now to well over 300.
Anthony Round the business development manager for Papa John's confirms:
"Following our recent UK TV advertising campaign, customer demand has never been higher and franchisees are keen to get a piece of the action by joining our growing organisation. The significant number of openings in December, underlines Papa John's commitment to UK growth and its franchisees will now look forward to delivering on the company's popular promise of 'Better Ingredients, Better Pizza' by welcoming customers in new areas including: Gloucester, Swindon, Coulsdon, Stoke-on-Trent, Dover, Leeds, Darlington, Doncaster, Cwmbran and Crewe.
The new store openings are being undertaken by a mix of experienced franchisees plus some new team members, all hungry for success. We will be delighted to focus on supporting them to ensure they have all the ingredients necessary to take advantage of the hot opportunity that running a Papa John's franchise offers!"
Papa John's is one of the largest pizza companies in the world and has opportunities for franchisees throughout the UK. Papa John's is currently running an incentive scheme to help franchisees in the early stages of growing their businesses which includes discounted royalty fees, contribution towards marketing spend plus free equipment for new stores.

Help is provided with location selection and shop fit-out. As a franchise, the Company supplies all the assistance needed to get your successful Papa John's up and running.
For further information on Papa John's franchise opportunities just click below to request your FREE franchise information pack

Papa John's Franchise News