Scamps and Champs Franchise
Scamps and Champs local business is currently celebrating a very successful first year!
4th January 2016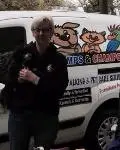 Just over a year ago Scamps and Champs announced the arrival of Fareham's newest business, dedicated to taking care of pets needs whilst their owners are at work or on holiday.

After dreaming of running her own business for so long, Jeanette Harding opened up her own branch of the successful pet care franchise, Scamps & Champs. With their support and training, Jeanette became fully licenced in dog walking and pet care, and one year on is now enjoying the responsibility of running her own business!
"I'm still loving the job and business is building nicely," Jeanette explains. "I've met some lovely people and their pets!"
As well as walking dogs and looking after peoples pets, Jeanette now employs 8 home boarders, who take in pets while their owners are on holiday. This is a popular alternative to leaving dogs at boarding kennels, with August proving to be a particularly busy month for the business.
Jeanette has recently just employed her first full time dog walker to assist with the day to day demands of her growing client base. Jeanette is very thankful to all the clients she's met in 2015 and is looking forward to 2016.
"I'd like to thank everyone who has supported me and helped the business to grow in our first year. We're lucky to have some fantastic clients and lovely pets to take care of. It's honestly a pleasure to do the job!"
To find out more about Scamps and Champs franchise opportunities just click below to request your FREE franchise information pack